As with Strava or Garmin, as of now, Bkool is also compatible with Training Peaks, letting users on both platforms sync their accounts and keep track of their workouts.
For those not familiar with it or who haven't used it, Training Peaks is an application geared primarily toward triathletes, cyclists and runners. Thanks to it, users can thoroughly track their fitness by analysing their workouts in detail. It is specially designed to be used by personal trainers, who can upload an exercise routine to the platform for the clients and monitor their progress.

The file extension used on this platform is .mrc, a workout format exclusive to Training Peaks in which targets are set as intensity percents.
How to sync Bkool and Training Peaks
The two platforms are synced in the same way as with Strava or Garmin. Just log into bkool.com and activate the button that appears in the TRAINING PEAKS tab within the IMPORT section of the MY ACTIVITY menu.
As always, once the accounts are linked by activating the button, they will be synced until they are unlinked by deactivating the button.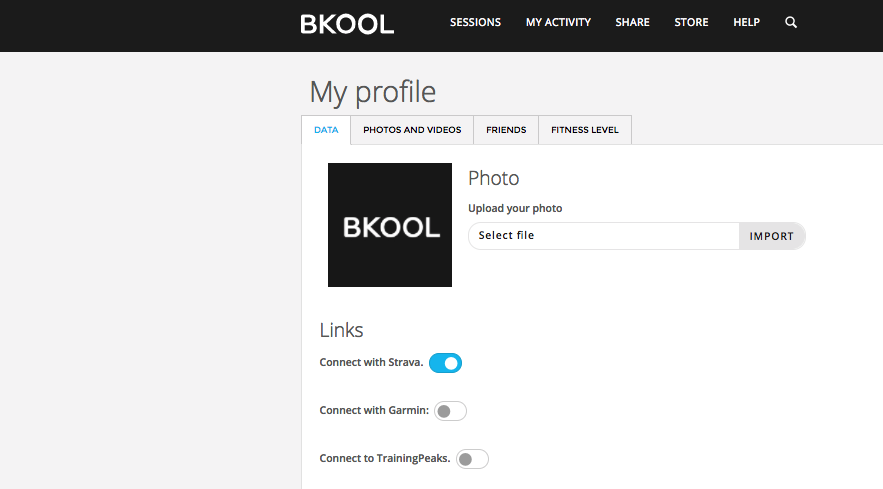 Don't forget that this sync function is exclusive to Bkool Premium members.
Once activated, and after you've entered your Training Peaks user info, every workout you do on your Bkool simulator will show up in your Training Peaks account with all the stats from your session so you can analyse it in detail. You don't have to worry about a thing, simply save your session when you finish and you'll get a summary in both your Bkool and Training Peaks profiles.
And how can I do my Training Peaks workouts on the Bkool simulator?
In this case, the syncing is not yet automatic, though we're working to add this feature very soon. Until then, we propose a solution that will easily let you do your Training Peaks workouts on the Bkool simulator.
Simply export a .msc training file from Training Peaks and import it into Bkool through our new Workout Creator. Once you've done this, just click on CREATE WORKOUT and it will be automatically available as a session for you to do inside our simulator. An onscreen message in our platform will confirm that you've completed the process correctly. It's that easy!