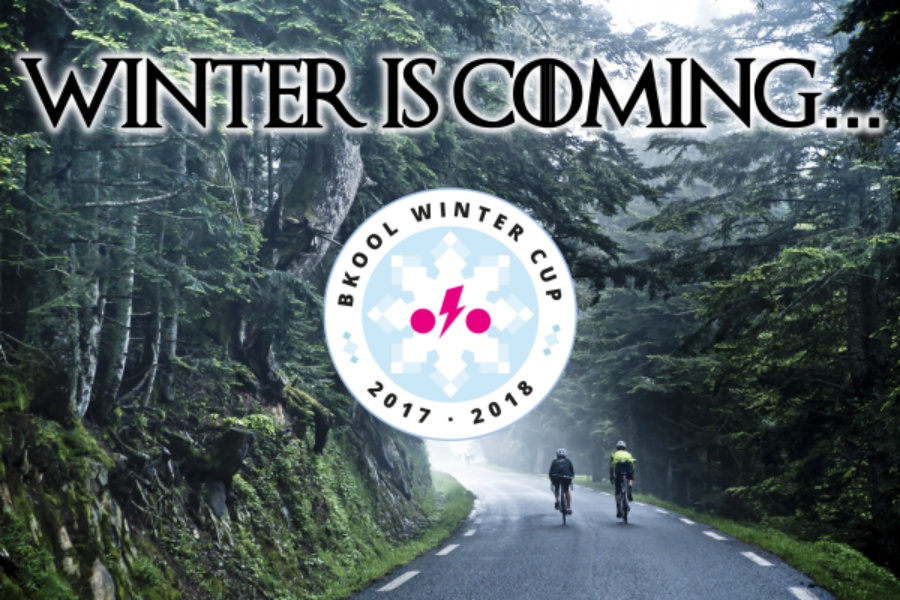 Bkoolers as you know, winter is coming and with it returns the biggest cycling competition on the planet, the Bkool Winter Cup!
The mechanics will be similar to previous editions, with stages that will bring together the best cycling races in the world, hundreds of participants distributed all over the planet and a lot of prizes from some of the best sponsors in the world.
The competition will start at the end of November and will run until the month of March, with weekly Multiplayer Challenges broadcasted live on Facebook with hundreds of spectators. In the last Bkool Summer Cup we managed to gather more than 300 people in front of the screen!

For this new edition, some of these broadcasts will even be accompanied by live commentary by two experts in home cycling. Just like a professional race!
In addition, we will have several special guests in our Challenges, giving you the opportunity to compete with them in real time from your own home. As already happened in the Summer Cup, Mikel Azparren or Chema Arguedas will be some of our regulars in the Multiplayer Challenges each week. And to their names, we will add several surprise guests from the world of cycling and sports in general … Bets are accepted!
For this edition, in addition to meeting stages of La Vuelta, Giro or Tour de France 2018, we will include several exotic tours that will take you to impressive routes in real and 3D video on the five continents. All this, accompanied by runners of more than 40 different nationalities and with fantastic prizes at stake. In the last Bkool Summer Cup we distributed a total of more than 100 prizes among the participants and we promise that in this new instalment of our virtual competition we will exceed that figure.
As if that were not enough, among all the competitors who finish all the stages in the top 100… We are going to draw a Bkool Smart Air, our new direct drive trainer!
Do you want more? For the usual prizes courtesy of our sponsoring brands (cycling equipment, sunglasses, running shoes, etc.) and Smart AIR, we will also add the inscription in some national road or MTB cycle race in the next season. The only requirement to participate in the draw will be to have completed all the stages available when the new year starts!
And take hold because of all this, we must add the monitoring of a lot of media that will be reporting on the course of the competition weekly as if it were a professional competition. The winner will be interviewed by Ciclosfera, number 1 urban cycling publication worldwide, with hundreds of thousands of followers – how cool is that?!
There is very little left for the biggest cycling competition of all time to roll. Ready to train more than ever this winter? We start very soon!