The second week of competition comes in collaboration with Sockers Lovers, the coolest and most original socks for your favorite sport.
Remember that you must sign up for the Bkool Winter Cup league to form part of the rankings.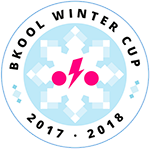 You can do the stages proposed in our Weekly Challenges, or on your own, completing the session found in the Leagues section on the simulator.
SOCKERS LOVERS @ BKOOL WINTER CUP

Wednesday 13th December: 11am, 5pm, 8pm. Thursday 14th: 2am (GMT+1)
The second stage of the Bkool Winter Cup, we are taking you to Forntenrieder Park, south of Munich in Germany. Ahead of you is a spectacular session with real video and 3D view. Get ready to face Bkoolers from all over the world in a 25km head-to-head battle to the finish line!
Between all the users who take part in any of the sessions, we will be raffling away four pairs of cycling socks from Sockers Lovers. Are you going to miss it?
---
RECOMMENDED ROUTES
EJBY – HINDEVAD – EJBY.DENMARK
From Denmark, Cykelbasse shares this 24-km video route starting and finishing in Ejby. A loop ride on quiet roads where you can just roll, without running into any big hills. Its mere 188 m of slope reveal the ride's limited difficulty.

---
TONOSAMABAYASHI RYOKUCHI PARK, TOYAMA. JAPAN
An easy 12-km session parallel to the Joganji riverbed, where you will ride through the Japanese park of Tonosamabayashi Ryokuchi, and near various temples. A loop route with only 100 m. of slope, starting from the Nagaresugi Hospital in Nagaresugi, southeast of Toyama.
---
CAERNARFON CASTLE. UNITED KINGDOM
The Roman castle of Segontium marks the start and finish of this 11-kilometer route that runs along the Menai Strait in northwest Wales. A very easy session, with only 20 m. of slope. Thanks to Tracy for sharing this great video from the town of Caernarfon.
---
Runs north to south through the Brazilian city of São Paulo, with a 15-kilometer route. It features rolling hills, with a climb of a couple of kilometers that should not be too much of a struggle, but if you want to post a top time you'll have to give it all you've got.

Happy cicling!