In this second week of the #TourBkool we will ascend the legendary Alpe d'Huez.
You can also get a great Atika Sport cycling kit.
---
2ND #TOURBKOOL CHALLENGE BY ATIKA SPORT
A new week of competition begins at our #TourBkool, this time under the sponsorship of Atika Sport, one of the best cycling equipment brands on the market.
This time around we have a challenge in one of the most legendary and beautiful settings in the history of cycling: the grueling ascent to Alpe d'Huez.
Just for completing the Challenge, you will be entered into a drawing for a complete Atika Sport cycling kit. What a gift!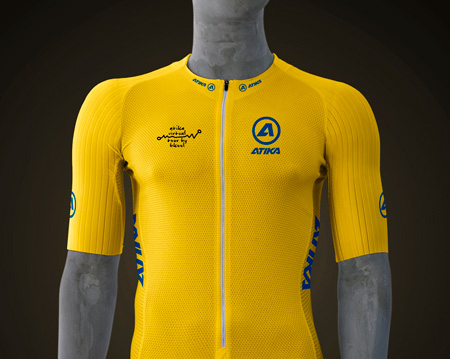 As always, you have different schedules to participate in our Challenge.
Thursday, 19 July 2018

To enter the raffle is simple. Choose the time that works best for you, open the Simulator 5 minutes before to pair your trainer and sensors, go to the homepage. At the time of the event, press refresh and scroll down to the LIVE section. You'll see a session that has a yellow box with "featured" inside. Join this session. Everyone who joins during the first 10-minute warmup and finishes the session will be entered into the raffle.
RECOMMENDED ROUTES
TOUR DE FRANCE 2018 S10. FRANCE
After the first day of rest, the pack will face a tough mountain stage, with several major mountain passes. Among them is the Col de la Colombiere, which you will find in this session. An ascent of 7.8 km awaits you, with an average grade of 8.5%, and some sections verging on 17%. It's a tough one. Get a good warm up, and don't go out too hard.

EAST PEACHAM – HARVEY'S LAKE. UNITED STATES
A 31-km route through the Caledonia County in the US state of Vermont. Starting and ending at East Peacham, you will pedal along quiet roads, circling Lake Harvey. With lots of ups and downs, you will climb a total of some 600 m, making this a difficult ride.

REUS – COLL DE LA MUSSARA. SPAIN
Starting from the Catalonian town of Reus, you will start this route, on which you will climb the Coll de la Mussara. A 10-km mountain pass featuring constant grades, and one section with 180º curves. In this tough session through the province of Tarragona, you will ride 20 km, ascending 860 m.

KIDSGROVE – MIDDLEWICH. UNITED KINGDOM
From England, Chris shares this 30-km video route between the towns of Kidsgrove and Middlewich. The initial part is the toughest, with an initial 3 km uphill, but the rest of the ride is slightly downhill, save for just a few grades. A session devoid of great difficulties, on which you will get to explore Cheshire County, through which much of the route passes

Happy cycling!
The Bkool team