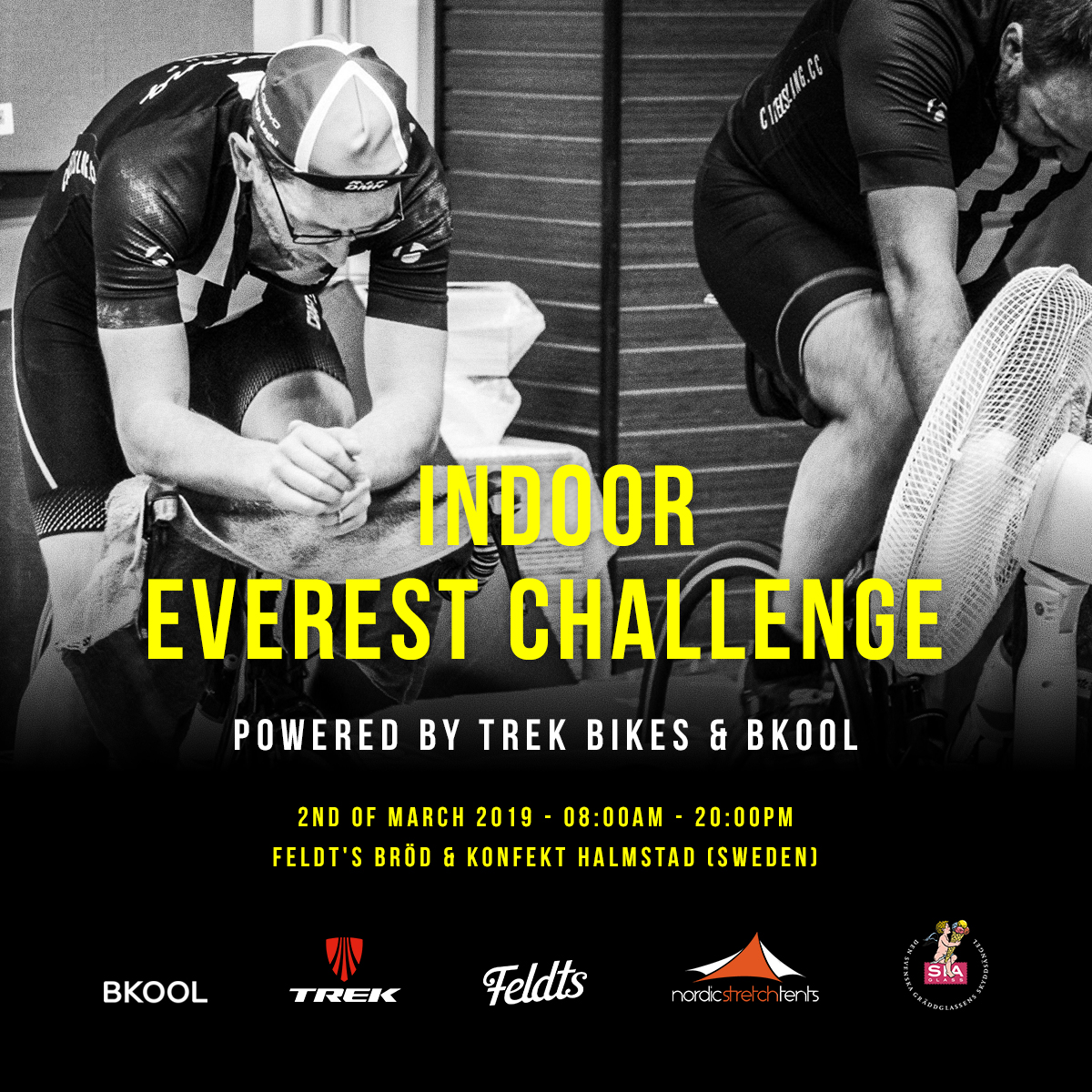 Indoor Everest Challenge By Trek Bikes & BKOOL took place at Feldt's Socker och Cykel, a cycling coffee in Halmstad (Sweden), to raise founds for Linda Hill, a woman who suffers a rare disease. We have spoken with Fin Madden, the promoter of the event, to know more about this challenge. We would like to thank you for contacting Bkool and for trusting us for such event. We hope this event was a great step for Linda.
"Years ago, a friend and I drew a map of Europe on a napkin in a bar, and sketched a line running for Dublin to Istanbul, and the plan was to cycle it. Life, liberty and the pursuit of happiness got in the way, he got married, and 15 years later I only made it from Dublin to Ljubljiana, Slovenia. We kept in touch, and our love of cycling kept us close on Strava. I moved to Sweden, he to British Columbia, but his brother lived in Norway. A dream was born, that we ride the Strykeproven (540km in one day) together. Then he stopped posting to Strava. I called him. Cancer. 5 months later, I got a worse call from his brother. "It's too late, he's gone."

Everything came crashing down, he was 37, he was healthy, he was riding daily. He lived on the North Shore, was riding Grand Fondos. There was only one thought that kept me out of a world of darkness, of losing everything. The Strykeproven. I have to complete the Strykeproven. And I did, with the help of a friend. We met his brother in tears in Oslo after the hardest day of my life, and that day I swore, I'm not losing another one. Not again. Not me.

Life in Sweden was good. I rode, I met an amazing cycling community, I made good friends. I met Linda four years ago, her husband is a colleague, cyclist and a good friend. Linda was sick, she couldn't work. She had lots of allergies. Linda has a huge heart, she used to train dogs before she got ill. She and her husband were there the week my wife and I met. The carefully helped guide us through our relationship, but Linda did not get better, she kept getting sicker and sicker, weaker and weaker in her body. Her heart, her mind, as amazing as always, as caring as always. Linda has gone from doctor to doctor, cure to cure, diagnosis to diagnosis with no solution.

Sweden has a great social system, but there are cracks, and Linda has fallen to the bottom of it's greatest chasm. She and her doctors strongly suspect that she has Mast Cell Activation Syndrome, MCAS, however it is so rare that there is nowhere in Sweden that can do the tests. Without the tests, there is no diagnosis. With no diagnosis, the Swedish system can't help. Linda has anaphylatic reactions to her own body, some times 5 times a day, her worst day recently she had to use 8 Epipens. She shouldn't be left alone, and yet she is alone half the day. Her husband needs to work, she's outside of the system.

I decided to raise money for Linda by doing the Everest Challenge. To repeatedly climb a virtual Alp d'Huez 9 times until I gain the height of Mount Everest. This should take me 10-12 hours. Every circus needs it's freak show. I can't sing, I can't dance, but I can sit on a saddle for a really long time. Trek Bikes Scandinavia jumped to the challenge, and I dropped a quick line to BKOOL (I have the Smart Go and love it) with a tiny hope that maybe they'd throw us a free subscription, or a hat or something that we could raffle.

They jumped at the challenge, and have offered support in all angles, from organization to promotion, they're even flying in a staff member to make sure the event runs smoothly! The have delivered 5 trainers to my door, two Smart Pro2 as prizes, and three Smart Go for the day. Friends at Trek provided us with the 4 bikes so others could participate and we let the local cycling community know what I was about to do.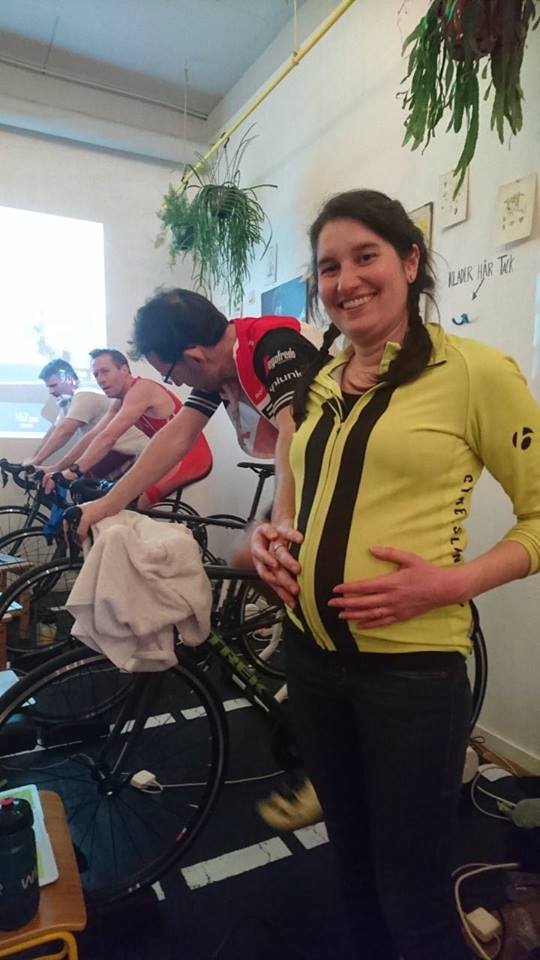 BKOOL's man on the ground, Herwig, arrived, and in a flurry of activity, we had the event set up int Feldt's Bakery. When the doors opened at 8 am, the Saturday regulars began to roll in. Local clubs that start with a coffee, or individuals buying bread. Soon, Linda's friends started coming in. I sat, grinding on my trainer with a myriad of other cyclists riding next to me. The kaleidoscope of customers changed, the only constant was the 10% gradient of Alp D'Huez. Up I climbed, playing a giant game of math, trying to keep my heart rate down and my power up as fatigue began to set it. The colours of the cycling shirts in the cafe changed as the mountain bikers came in splattered with mud, to be replaced by the remarkably well-muscled triathlete gang. Raffle tickets were sold by my glowingly pregnant wife and a team of volunteers as Herwig worked the crowd and kept us running.

15 water bottles later, 8 sandwiches and 4 different cycling hats later I stepped off the bike. It was 6pm, the customers had stopped coming and we were millimeters away from our goal. I was at 6796 m climbed, but the real challenge had been met. With all of the prizes supplied by BKool, Trek and our local friends, we'd sold 1500€ in tickets, and raised €4800 of €5000.
Success was declared, and I felt a wave of happiness and relief. BKOOL offered us the trainers we used at an incredibly low price, and we are now 10% above our goal having sold them! Linda is heading to Germany for her tests in a few weeks, and the news coverage has led to the local region decided to give her a full time assistant at home. In total, we climbed just over 20 000m during the day, or 2.3 times the height of the greatest mountain on Earth.

I won't lose another friend, and with a team like BKOOL behind me, I know I won't.
Thank you for everything, you are saving a life."

Finbar Madden
More information available on Facebook – Cycling Everest for Linda Hill.