We kick off the last quarter of the year suggesting some options to rack up your first km of the month.
Plus, this week we wrap up our special World Championship – in style, of course!
CHALLENGE 2 #BKOOLWORLDCHAMPIONSHIP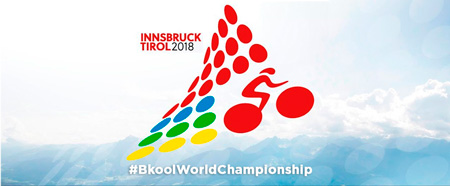 Bkooler: the time has come to give it your all.
The second stage of our #BkoolWorldChampionship is only 9 km, so you'll need to sprint from the outset if you want to make the podium.
Just for finishing the challenge at any of the proposed times, you will be entered into a drawing for two Muck-Off bicycle cleaning kits, two "Plan your Pedalling" indoor training books, and an Ortlieb saddle bag.
Check the available times, and get ready for a unique Multiplayer experience.
Thursday, 4 October, 2018
---
To enter the raffle is simple. Choose the time that works best for you, open the Simulator 5 minutes before to pair your trainer and sensors, go to the homepage. At the time of the event, press refresh and scroll down to the LIVE section. You'll see a session that has a yellow box with "featured" inside. Join this session. Everyone who joins during the first 10-minute warmup and finishes the session will be entered into the raffle.
RECOMMENDED ROUTES
A 31-km loop route on which you will visit the village of Sørskogbygda and the town of Hernes, both in the county of Hedmark. It's an easy session, although it does have about 400 m of slope. Thanks to Per for shooting the video, in which you can enjoy the Norwegian forests.
Pedal the final km of this October classic, dating back to 1896. 34 km await you along the banks of the Loire River, without any long hills, but with some short and steep grades of over 15%. If you're looking to win, get ready for a long sprint.

HINGHAM – ADELL, WI. UNITED STATES
A 25-km route through Sheboygan County. You will leave the small town of Hingham to ride a loop along quiet roads, and by the town of Adell. With a maximum incline of 6.4% and 190 m of rise, it's an easy session. Thanks to SlowMarco for sharing his video.

A 26-km session in which you will tackle the long climb up Mount Chōkai, an active volcano located in the Japanese region of Tōhoku. It is a route featuring moderate grades, 5.7% on average, and with a total of 1,200 m of slope. If you want a long and demanding workout, this is a good option.

Happy cycling!
Bkool team