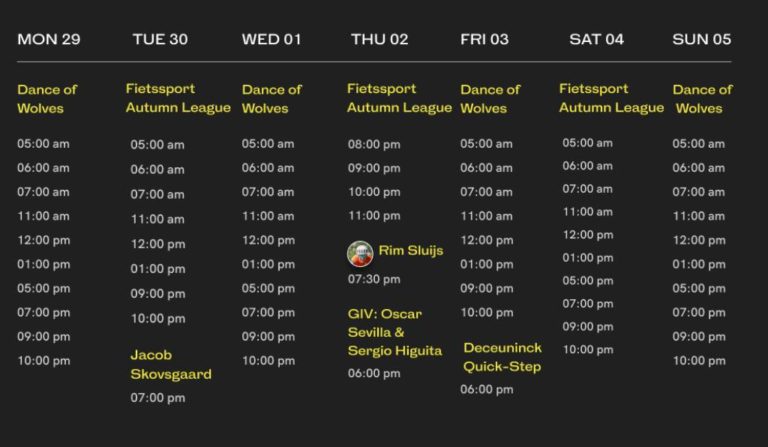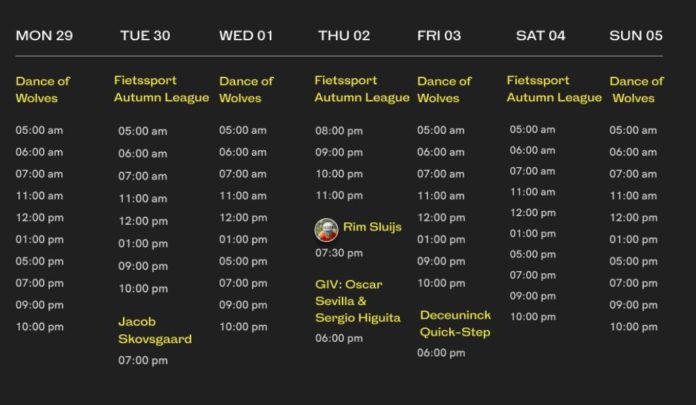 The week starts with Group Rides of the Dance of Wolves competition, co-organised with Deceuninck Quick-Step, the number one team in the international UCI ranking. On Monday, Wednesday, Friday and Sunday we will ride together the climb to the legendary Alpe D'Huez, which will be the main feature of the second stage of the event.
Friday 3rd December is the start of the third stage of the Dance with Wolves competition and at 18:00h (CET) we have prepared a special Group Ride with Fabio Jakobsen and Bert Van Lerberghe. These international cycling stars will take you through a beautiful route between two Canadian lakes, Lake Simcoe – Lake Dr East.
By participating in the Group Rides alongside the stars, or by completing the route in the six days following each Group Ride, your name will be included in the classification. In addition, if you finish all three stages on the proposed dates, you will be entered into a draw to win an official Deceuninck – Quick-Step jersey.
On Tuesday, Thursday and Saturday there will be Group Rides throughout the competition day in collaboration with the Dutch cycling federation. This week on Tuesday, stage four will still be available in Rondje Groningen, and to give it a fitting farewell, we will be joined by Jacob Skovsgaard for a special Group Ride.
As is the case every Thursday of the Fietssport Autumn League, we will have Rim Sluijs with us to kick off the fifth stage of the competition. At 19:30h (CET) a Group Ride will start on the Mugdock and Crow route and you will be able to follow the experience live on the Facebook page BKOOL Nederland (BNL).
Finally, leaving the best to last, this week we will have a Group Ride in the Giro d'Italia Virtual hosted by BKOOL. On Thursday at 18:00h (CET) we will share the asphalt with Oscar Sevilla and Sergio Higuita, two cycling greats.
If you haven't tried BKOOL Premium yet, you can access a 30-day free trial on our website. Don't miss this opportunity to try out the most realistic cycling simulator on the market!