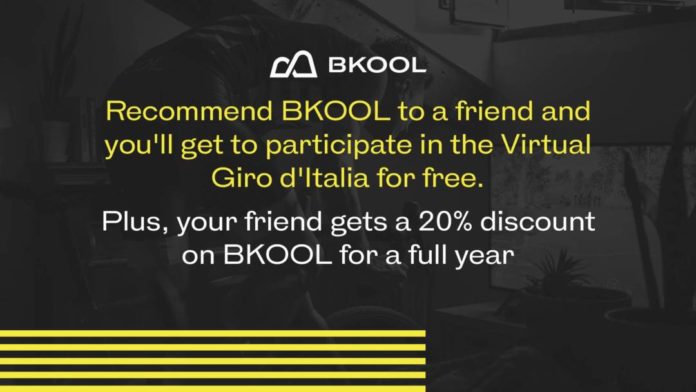 Do you like training at BKOOL? Why keep it to yourself when you can share it? Now you can invite your friends to BKOOL and receive rewards if they decide to join the team.
What will be your reward?
If you invite one of your friends to register, as a reward, you will receive a free entry to take part in the Grande Arrivo of the Giro d'Italia Virtual hosted by BKOOL, where you can try out our new 3D + HD video technology, and have the chance to win some amazing prizes.
As soon as your friend registers for BKOOL Premium, you will receive your reward. Before you know it, you'll be training on the most famous stages of the Giro d'Italia, just like your favourite cyclists!
What does your friend get out of registering with your link?
Thanks to your invitation they will get a 20% discount on their first year of BKOOL Premium. You'll be able to ride the thousands of routes we have in video and 3D, train on our velodromes, or keep fit with our classes at BKOOL Fitness, all without leaving home. You can even meet up virtually to ride together!
How can you recommend BKOOL?
After logging into bkool.com, you have to access your profile by clicking on your name at the top right. Here you will be presented with several options, just click on "Recommend to a friend" and share the link shown in your profile with your friends.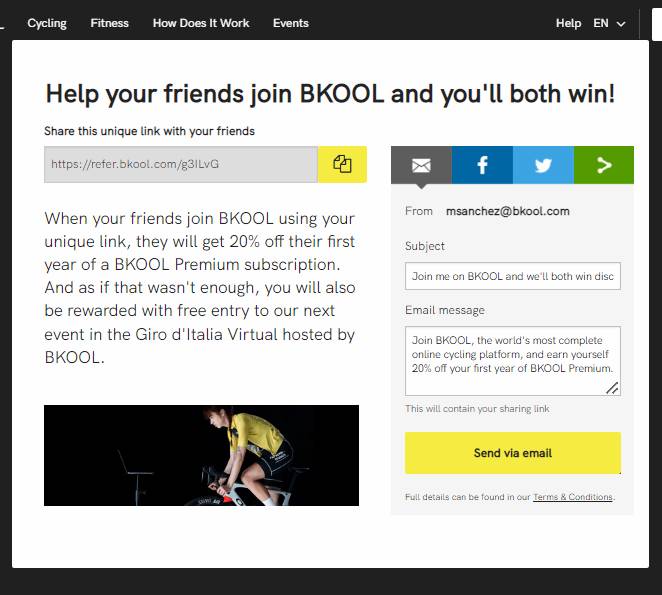 Each user has their own link. Once your friend has clicked on the link you have sent them, they will be able to register with BKOOL and you will receive your registration for the Giro d'Italia Virtual in your mailbox totally free of charge. Your friend will be able to enjoy the 30 days free of charge.
So what are you waiting for? Share your invitation so your friends can finally understand why you can't stop talking about BKOOL.