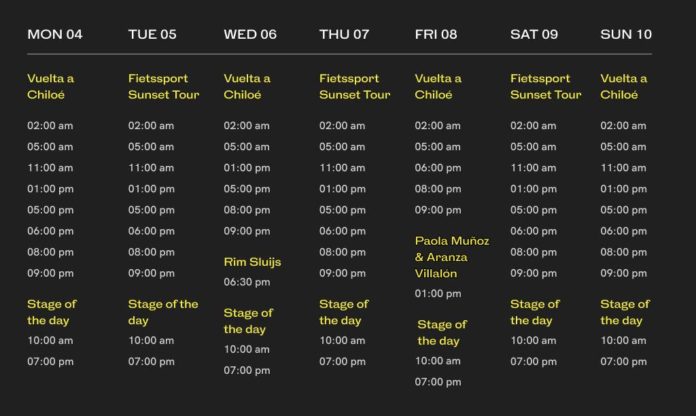 This week kicks off a spectacular journey through six different countries via twelve of the most important cycling events in Latin America. The Northweek Tour of the Americas will take you through mountain bike routes in the middle of the jungle, races around the lakes of Patagonia, ascents of volcanoes… a unique opportunity to enjoy the best cycling routes and races in Latin America without leaving your home.
We start this event by riding in the Vuelta a Chiloé, where you can win two inscriptions to the Epic Gran Fondo Chile, Northweek Regular glasses and Northweek Phantom glasses during one week.
And as we know that riding in a group is cooler, you will have a Group Ride on Friday 8th at 13:00h (CEST) with two great Chilean cyclists: Aranza Villalón and Paola Muñoz.
For each stage completed within the stipulated dates, we will reward you with a special Finisher bib, which you will receive in your email the following week. When the Tour de las Americas Northweek finishes, if you have managed to collect all the finisher bibs for each of the stages, send us an email to socialmedia@bkool.com and we will reward you with 5000 BKOOL points so that you can redeem them on the virtual bikes that are about to arrive in the simulator. You will also be entered into a draw to win a coupon for 3 free months of BKOOL Premium and a special edition Tissot Giro d'Italia watch.
As if that wasn't enough, this week sees the second stage of the Fietssport Sunset Tour, where we will be riding together in Rondje Hoogvliet-Barendrecht. As every week, Fietssport ambassador Rim Sluijs will lead a Group Ride on Wednesday at 18:30h (CEST), which you will be able to comment on our social networks.
The cherry on top of the week will be the Stage of the Day, where this week we will have the opportunity to follow closely one of the most important events in the world of cycling. Are you ready?
Monday: Arches National Park Scenic Drive
Tuesday: Calais / Pas-de-Calais
Wednesday: The Wolfpack: A day in hell
Thursday: Stenay-Longwy
Friday: La Planche des Belles Filles
Saturday: Lausanne
Sunday: Col de la Croix
At BKOOL we will continue working to make the simulation more and more real. Try it FREE for 30 days!