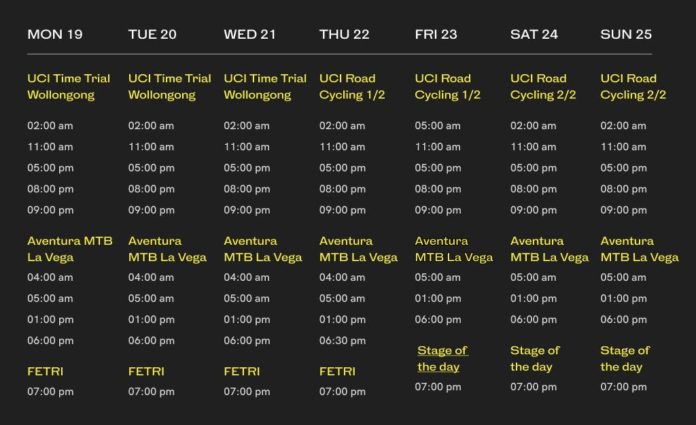 Wollongong will host the 2022 Road World Championships and we at BKOOL wanted to accompany the professionals. Located less than 100 km south of Sydney, the Australian city will host the event from 18th to 25th September, and it will be the setting for one of the key races of the entire season, where the coveted rainbow jersey will be at stake.
All BKOOLers who want to know what it's like to ride with some of the fastest men in the world will be able to do so thanks to our Group Rides. With our training calendar you can do the time trial from Monday to Wednesday, and the street circuit from Thursday to Sunday.
We also have a surprise in the Tour of the Americas Northweek, this week we bring you an extra route!
Travesía MTB La Vega brings you a video route through the middle of the Andes mountain range in the small town of La Vega, in the region of Cundinamarca Colombia, where you can ride through unique landscapes in the world. As we know this is a last minute surprise, it will not be mandatory to finish this stage to enter the final draw of the event.
When the Tour of the Americas Northweek finishes, if you have managed to collect all the finisher's bibs from the rest of the stages, send us an email to socialmedia@bkool.com and we will reward you with 5000 BKOOL points so that you can exchange them for the virtual bicycles that are about to arrive at the simulator. You will also be entered into a draw to win a coupon for 3 free months of BKOOL Premium and a special edition Tissot Giro d'Italia watch.
In addition, it's time to train for one of the events of the Spanish Triathlon Federation at the Spanish Championships in Bilbao, so you can prepare the route like a pro. Prepare from home for the event and when you do the stage on Saturday you will know the route like the back of your hand.
If the timetable of our Group Rides does not suit you, you can always do the routes whenever you want as they are saved in BKOOL.
BKOOL will continue working to make the simulation more and more real. Try it FREE for 30 days!