The cycling off-season, also known as off-season, is usually that time of year when cyclists take a step aside to take a break and allow their bodies to recover while they spend time on other activities. However, that doesn't mean that the sport stops being part of our daily lives.
This is the period between two seasons and, although some people think of it as a simple holiday, it is the ideal time to reduce the volume, recover well, practice other types of exercise and activities and start focusing on the next season. The pre-season in cycling is one of the most important phases of training: it lays the groundwork for the next phases of training and racing.
Some of the benefits of this period, which can have a very varied duration depending on each athlete -from 4 to 8 weeks-, are:
It allows us to evaluate the season and to be able to draw up an improvement plan.
It is like a good dose of sleep: without it, sooner or later our performance will decrease, we will be mentally exhausted and we will suffer frustrating aches and pains.
It heals the mind (prevents exhaustion) and the body (avoids injuries).
We need time to recover, reflect and readjust: the off-season allows for a recovery that paves the way for the road ahead
It lays the foundations for the future: it allows us to work on aspects of improvement that can be decisive in the future.
But, as we have already mentioned, an off-season does not force us to completely abandon the sport. In fact, we should seriously consider the decision to remain active during this period.
How? The big difference between the regular season and the off-season is the absence of structured training. Let's look at the best way to deal with the off-season.
How to train in cycling off-season?
This is the least demanding period of our entire calendar. Above all, we should seek relaxation and enjoyment of the sport without off-season or demands. Many cyclists find this difficult to understand, but we must not forget that in order to get in shape, we must first lose it.
Take an obligatory break
At the end of the season, before resuming training after your last competition, include a mandatory break: dedicate one or two weeks to do nothing at all and recover completely.
Take the opportunity to practice other activities
By practicing other sports, we not only get out of the monotony of the whole year, but we opt for a great improvement of the general physical condition through other activities: hiking, swimming, running or skiing are some of the ideal options.
Work on strength
The pre-season cycling season is an ideal time to emphasize strength work. This will help you strengthen your muscles and prepare them for the return of demanding workouts, improving your future performance and preventing your body from dreaded injuries.
Take cycling easy
During the off-season, cyclists are still cycling, but they take it easier. Off-season training is characterized by:
Fewer kilometres
Very easy workouts
No intensity
Increased cross-training (strength work)
Lots of rest (days off)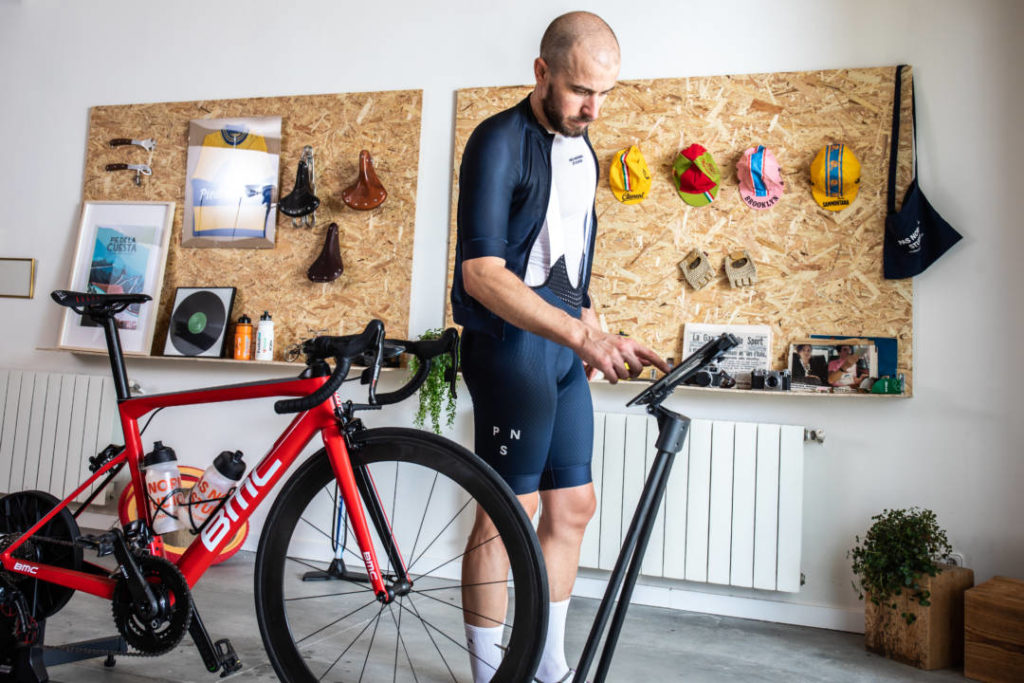 In short, the cycling off-season allows us to return to physical activity little by little, to recover sensations and to start profiling a new state of fitness. In this context, a tool such as BKOOL can be of great help and offer multiple advantages.
On the one hand, indoor cycling gives us absolute freedom and flexibility. Both in terms of schedules and types of sessions. We just have to get on the smart trainer when we feel like it and choose the type of training or route we want.
In addition, the pre-season cycling season is a good time to explore routes that perhaps we have not been able to try at other times of the year because they did not fit our goals. You can also take the opportunity to take part in events, there are many on our platform!
On the other hand, once the end of the pre-season approaches and we want to start getting things a bit more serious, BKOOL tests allow us to assess our fitness, determine our training zones and start setting up structured training.
If you haven't had the chance to try BKOOL yet, you can try it for FREE for 30 days on our website.