As cyclists, long climbs pose one of the biggest challenges we can face. That's why for many cycling enthusiasts tackling a demanding climb is a challenge they struggle to cope with.
However, indoor training offers a safe way to prepare for a long climb. In this article we tell you how you can train for long climbs without leaving home, thanks to the smart trainer and BKOOL.
We'll show you how to get the most out of training on the smart trainer to improve on long climbs!
Why train on the trainer?
Before we get into it, it's worth remembering why the smart trainer is a useful tool for training. Although we have gone into it in depth in previous articles, we emphasise that the trainer allows us to work specifically on different skills, such as endurance or cadence, without the road conditioning our training. In addition, we can accurately monitor our activity and adjust our training to our needs and goals, among other advantages.
Pre-training
Before we start training for long mountain climbs on the trainer, it is important that we make a realistic assessment of our current physical condition. It is likely that we will need to increase our endurance or improve our technique before we start working specifically on long climbs. It is also critical that we plan our training well, setting clear and realistic goals, and dedicating the time and frequency necessary to achieve them.
Training techniques for long climbs on the smart trainer
When it comes to working specifically on long climbs, it is important that we follow a series of techniques that allow us to improve our endurance, cadence and technique. For example, long sets can be very useful to increase our aerobic capacity and improve our endurance. We can also do simulations of climbs in which we can adjust the resistance and cadence to adapt to the characteristics of each climb.
For all these reasons, the smart trainer is an ideal tool that will allow us to work in a specific way, as this will allow us to adjust the training parameters to achieve an adequate and controlled stimulus. The following are some training techniques that can be useful for improving on long climbs on the smart trainer:
Targeted training sessions
A good way to improve on long climbs is to dedicate specific training sessions to work on aerobic endurance and muscular endurance. In this type of session, long, continuous sets are performed, maintaining a high cadence (around 90 rpm) and an intensity that falls between the aerobic and anaerobic thresholds. A typical training session to work endurance on long climbs may consist of 4-5 sets of 15 minutes, with a 5-minute rest between each set.
You can find endless options in our Workouts Library or design them yourself with the Workouts Builder.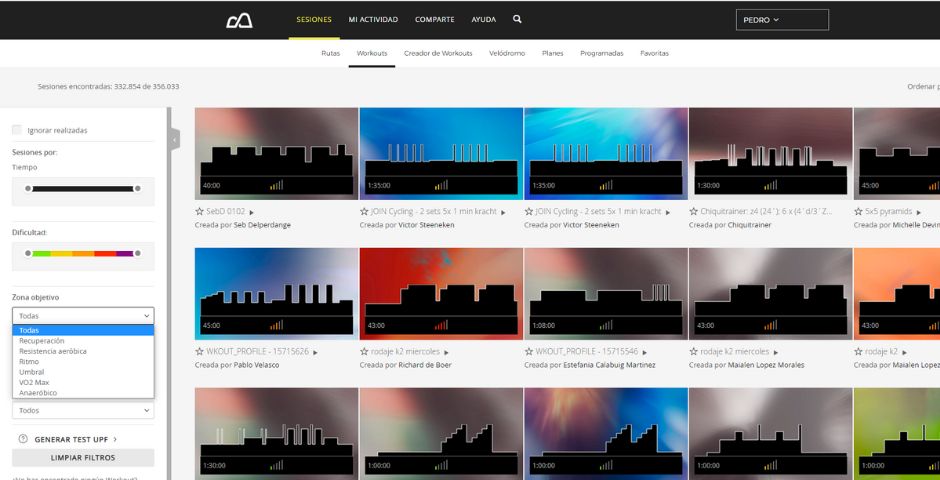 Climb simulations
Another very effective technique for training long mountain climbs on the smart trainer is to perform hill simulations. In this type of training, you mimic the gradient and duration of a given climb, adjusting resistance and cadence to simulate the conditions of a real climb. A typical mountain pass can last between 20 and 40 minutes, and you should progressively increase the resistance to mimic the slope of the pass.
Fortunately, at BKOOL the simulation becomes almost a real reality: you can try from home the most mythical summits of cycling in Italy or touch the skies of France.
Importance of the right cadence and resistance
To improve on long mountain climbs, it is essential to work on both the right cadence and the right endurance. A high cadence (around 90 rpm) is important to avoid muscle fatigue and maintain good efficiency. In addition, we should adjust the resistance of the smart trainer so that the training session is challenging, but not overly intense, as this can lead to early fatigue.
Working on posture and technique on the trainer
Although pedalling technique and posture are aspects that are primarily improved on the bike, we can also work on them on the trainer. It is important to focus on maintaining good posture on the bike, with a straight back and relaxed shoulders. We should also work on pedalling technique, focusing our attention on pedalling in a rounded manner, applying force throughout the pedal stroke and avoiding dead spots.
Tips for staying motivated
Training on the trainer can be hard and monotonous, so it is important to keep in mind some tips to stay motivated. We can vary our training sessions so we don't get bored, incorporating different exercises or intervals. We can also listen to music or watch videos to distract us while we train, or even join virtual training groups for cyclists.
In short, the trainer can be a very useful tool to train specifically for long mountain climbs. With good planning and the right techniques, we can improve our endurance, cadence and technique, thus preparing us for the long climbs we will encounter on the road. And, although training on the trainer can be tough, with a few tricks we can stay motivated and keep progressing in our training.
If you haven't had the chance to try BKOOL yet, you can try it for FREE for 30 days on our website.