Cycling is a great way to exercise, train and disconnect. If you add to these advantages that during the training session you can enjoy the scenery of one of the most beautiful countries in South America, you will want to grab your bike right now. That's why today we're going to tell you about the 7 cycling routes that will surprise you in Colombia.
7 cycling routes in Colombia
1. Guarne – Rionegro
Not far from Medellín is this fantastic 20.5 kilometre route that can be done in 20 minutes. Its ascent is 183 metres, with a maximum gradient of 7.12%. This is an doable road route for beginners, in which you travel along the Medellin Bogota highway. This section links the towns of Guarne and Rionegro, where you can observe the typical Colombian architecture.
2. La Ceja – El Retiro via Pantanillo
This route is shorter than the previous one, 13.1 kilometres, however, it has a higher level of difficulty. The estimated time for this session is 21 minutes 46 seconds. Its degree of difficulty 2/5 is due to the ascent of 296.6 metres, having an average ascente of 4.43%. The maximum slope is 12.51%, whose ascent distance is 6.7 kilometres.
Along the route you will be able to enjoy the views of the forests and meadows that surround the road. Starting in La Ceja and ending in El Retiro, you will enter the green landscape that characterises Colombia.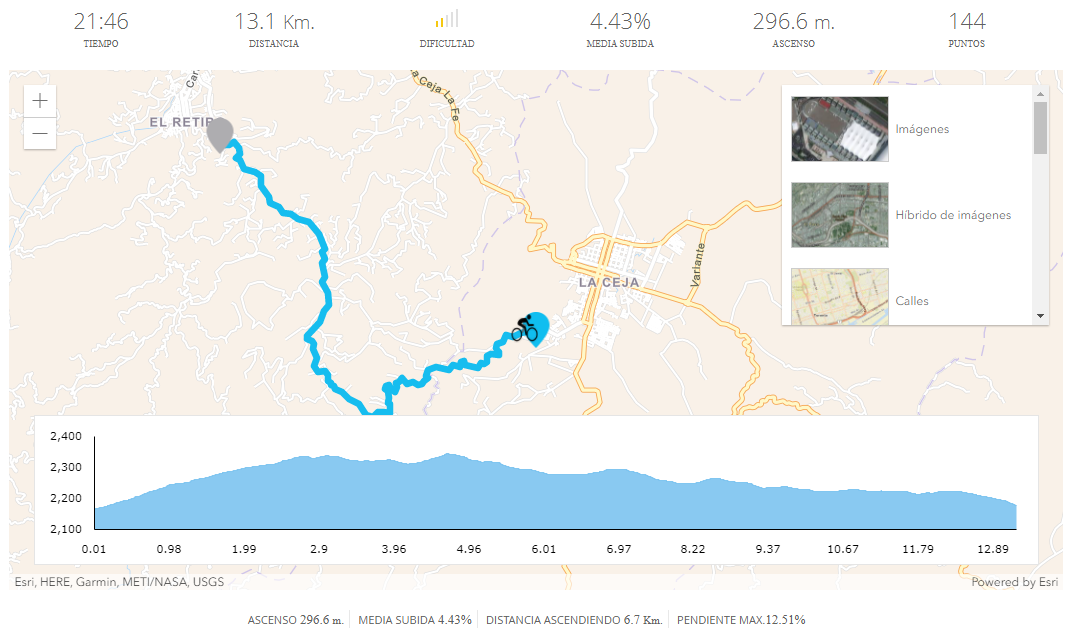 3. Ocaña / Norte de Santander
With a distance of 7.6 kilometres, this route has an estimated time of 37 minutes and 15 seconds. This distance-time ratio is due to the 376 metres of ascent that the section between Ocaña and Norte de Santander has. This road session has an average ascent of 5.25%, with a maximum gradient of 13.86% and an ascent distance of 7.2 kilometres, practically the entire route.
4. San Pedro de los Milagros
This is the longest route, with 27.6 kilometres that are covered in 35 minutes and 48 seconds. Its ascent is 521.9 metres. The maximum slope is 9.31% and more than half of the route is uphill: 15 kilometres. By road, you will be able to enjoy the Colombian countryside and its infinite meadows.
5. Palmira Tiendanueva
We did not forget those who prefer to enjoy without suffering, so this route of 9.1 kilometres, whose estimated time is 13 minutes, is perfect for them. It has 139.5 metres of ascent, with an average climb of 1.9%. The maximum slope is 5.77%, so its difficulty is 1/5. Enjoy the inland part of this country.
6. Cartagena, Popa Hill
In this route we move away from the inland part of the country to observe its coast. During 9.7 kilometres of distance and 24 minutes of riding, you will be able to move along the coast of Colombia and see the sea that bathes it. The ascent is 165.2 metres and the average climb is 2.92%. This stretch between Cartagena and the Cerro de la Popa is perfect for enjoying the sea views.
7.Subachoque / Cundinamarca
The last route that will surprise you in Colombia is the one between Subachoque and Cundinamarca. It is only 6.7 kilometres long, however, it has 297.8 metres of ascent. Its difficulty is 2/5, so it is understood that the estimated time is 27 minutes and 11 seconds. The maximum slope is 12.13% and the ascent distance is 6.1 kilometres, practically the entire route.
It takes place in the centre of the country, so you will ride on the road while observing the prairies of Colombia.
These are the 7 cycling routes that will surprise you in Colombia, however, they are not the only ones. Cycling is linked to the enjoyment of nature, so we work to bring these landscapes to indoor cycling.