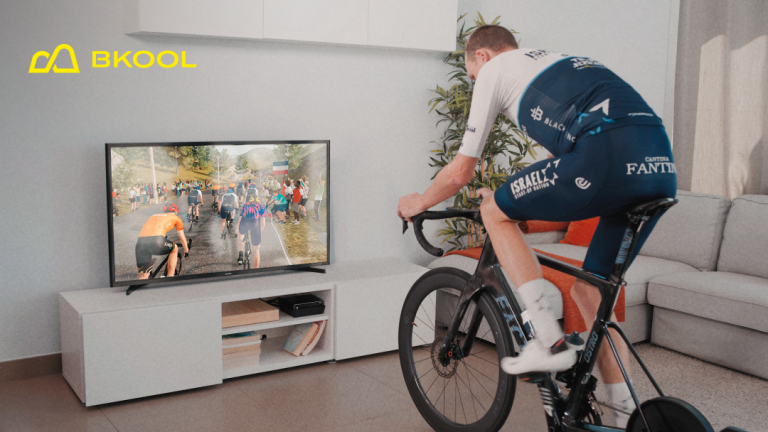 Cycling star Chris Froome has become your new team-mate. Looking forward to riding with him?
Since turning professional in 2007, the British cyclist has not stopped winning races, as well as the hearts of his fans. Four Tours de France, two Vuelta a España, a Giro d'Italia and two Olympic medals are just some of the titles he has claimed.
Just a few days ago Froome announced his participation in the Tour de France after overcoming the serious injury that has kept him away from major competitions for the last three years. In order to prepare himself in the best possible way for his great comeback, he has chosen BKOOL as his indoor cycling platform.
The first thing that struck us about Chris on our first encounter with him was his approachability and friendliness. Rarely does a superstar turn out to be such a normal and friendly guy. We were delighted to learn what a good first impression he had of BKOOL after his participation in The Challenge of Stars and how much he makes the most of the platform in his indoor training sessions.
In his own words: "The realism of BKOOL is amazing. I can ride any route on the planet on my trainer, prepare for every race or design my own workouts while looking at my live training data".
We met up with him in Tenerife, where he was preparing for the season with routes of more than 200 kilometres with the Teide as his rival to beat. He told us that he is starting to feel better and better and that the warm weather is always good for his performance. After some jokes and anecdotes, he got on the trainer to try out the latest innovations of the platform. He had just ridden 180 kilometres around the island and still felt like lifting watts to test the new improvements.
We are sure that he still has a lot to give in the big competitions. But as he says, it will be step by step, as he comes back from an injury that forced him to learn to walk again. It is this spirit of sacrifice and self-improvement that really distinguishes the great stars. In Chris's case, moreover, it is combined with a charming personality and that permanent smile.
Very soon we will have news of his first Group Rides with you, but first, we want to celebrate Froome's arrival to #TeamUnlimited with a SPECIAL PRIZE DRAW. Would you like to win a jersey signed by one of the biggest stars in the history of cycling? It's very easy, all you have to do is follow us on Instagram and participate by commenting on this post with your favourite route on BKOOL.
And remember that riding with Froome can be much easier than you think thanks to the 30-day free trial available on bkool.com.
We are #TeamUnlimited!