Training on the smart trainer at home or at the gym is no different from cycling outdoors, so we must also pay attention to hydration.
Sometimes this factor is forgotten, however, proper hydration during exercise on the smart trainer is very important. The thermoregulatory conditions outdoors are completely different from those indoors. When indoors, there is more dehydration.
How to plan a cycling session?
One of the most common questions for cyclists who train on their own is how to plan their training sessions during the week using the smart trainer.
There can be various forms of personalised training sessions, but the most important thing is to organise the session with sense and criteria. Also, you must maintain proper nutrition and hydration during these workouts, as it will be a key factor in your performance.
Even if you do low-medium intensity workouts, hydration has big relevance at a physiological level and, therefore, even if you do less intense exercises, it will be essential to drink some water.
It also depends on the intensity of your workouts and your physical condition, but it is still advisable to keep hydrated, drinking approximately 600 ml of water per hour.
To plan a session on the smart trainer you should take into account several factors: physical capabilities, endurance capacity, your leg strength and above all your level of experience.
It is always advisable to do a gentle first session, changing your pace from time to time, staying hydrated and checking your physical condition at all times. If you manage to perform a session of this type successfully, for the next session start to include variations, including some sprinting, some more intense series, etc.
Example of planning a training week
Below, we are going to include a planning of different sessions that you can perform throughout a whole week. At BKOOL you can find the right exercises to plan a good routine.
First day of the week
Perform moderate work with some change of pace. For the time being, forget about series. You can train, for example, between half an hour or forty minutes including two or three progressions in that time. This is a good way to start the week in your training on the smart roller.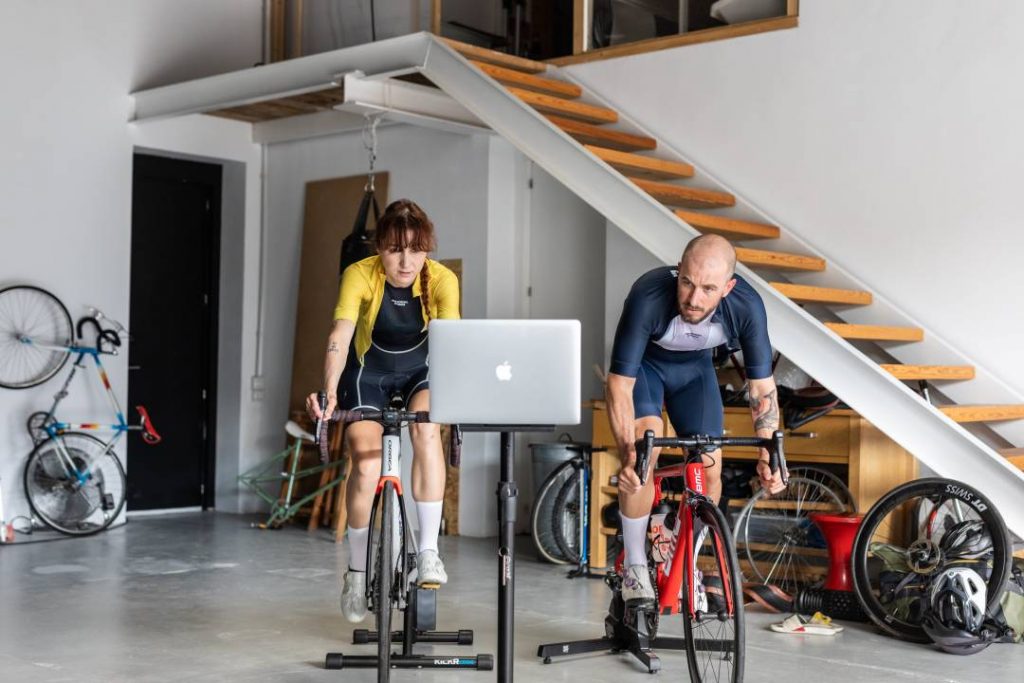 Day two of the week
It's a good idea to start your sessions with strength components, especially to exercise your legs. You can do two or three sets of an average of five minutes simulating an incline. In this second session you will feel much more tired and remember at all times that you must stay well hydrated if you want to finish the exercise in good condition.
Day three
Probably the most intense of the whole week. This training is based on an intense exercise to exercise your speed. For this, it is good to do a session of thirteen sprints for thirty seconds. If you feel that this is too many sessions for you, lower the number to nine or ten sprints.
Day four
While the third day is the most intense day, the fourth day should be taken easy. This is a light session to recover 100%. Remember that not every day can be equally intense, as our body needs rest, especially if we want to train five or six days a week.
It is advisable to find one day a week to take off and rest. Choosing this day will depend on how you feel physically.
The weekend is a good time to work on your endurance, doing very long sessions -approximately one and a half hours-. Keep in mind that the hydration factor for this session can be fundamental if you want to resist until the end.
Conclusions
Remember that, to perform any training session, including those that you do at the gym or at home as is the case of the smart trainer, you should always stay hydrated.
Every so often you should eat foods with sugar and carbohydrates along with a bottle of water to keep your body fit and ready for the session and the next day's training.
Depending on the intensity of your training sessions, you will need more or less water. Whatever your training is, you are going to have to stay hydrated if you want to keep your body in tune and ready for your sessions.