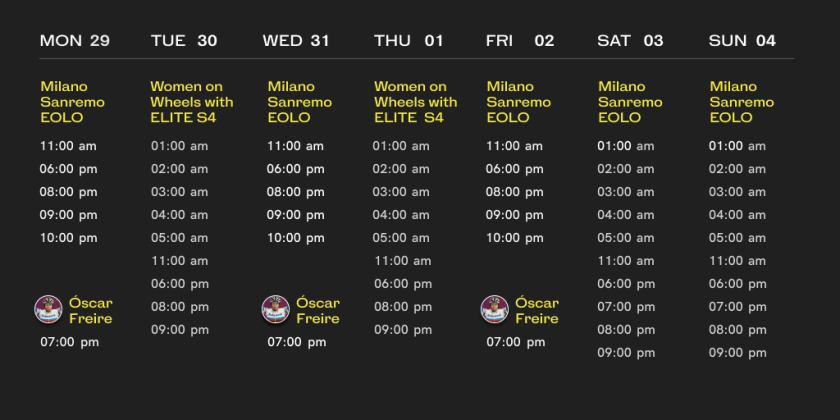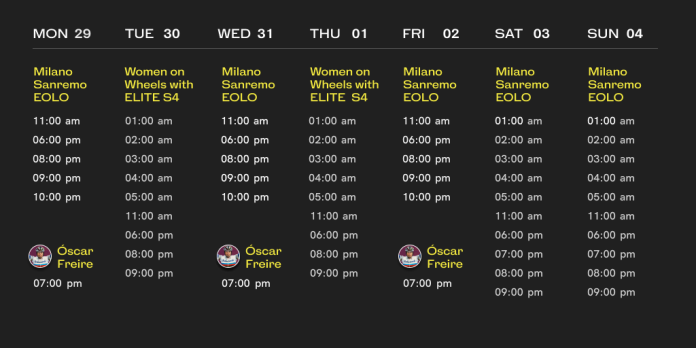 Another week full of breathtaking routes all over the world is starting with BKOOL. For the week of March 29th to April 4th we bring you Group Rides and competitions with which you can be sure that training from home is going to be more exciting than ever.
This week Bkoolers will be able to compete in the fourth stage of Women on Wheels with ELITE by BKOOL. This stage corresponds to the Minori-Vietri Sul Marex route, where you can ride through the coast of Salermo. During 16 kilometres and with an ascension of 220 metres you will be able to enjoy riding with cyclists from all over the world.
The Milano – Sanremo EOLO Virtual by BKOOL will start this Monday 29th March and will give all users of the online platform the chance to compete from their own homes in the Italian Classicissima. Oscar Freire, three-time winner of the Milano-San Remo in 2004, 2007 and 2010, will be in charge of leading the Group Rides of this competition.
On Monday 29th March at 19:00 h (CEST), Wednesday 31st March at 19:00 h (CEST) and Friday 2nd April at 19:00 h (CEST) Bkoolers will be able to join Oscar Freire for this unique ride. In addition, Freire will share the competition via Instagram Live so you can interact with him and discuss the ride together.
To participate, the only requirement is to have a Smart Trainer and to be a user of the BKOOL indoor cycling app. All you need to do is complete each stage to add your name to the ranking, where it will be added to those of hundreds of cyclists from different countries. Participation is open to any type of cyclist, regardless of age, gender or level.
The dates and times to join this week's Group Rides can be found both in the image above and on our website. Remember to mark them in your calendar so you don't miss out on the chance to compete with your favourite riders!