Costa Rica is known throughout the world for its natural beauty, its friendly and welcoming people, and its commitment to protecting the environment. But what many do not know is that Costa Rica is also a paradise for cycling lovers.
With its warm and tropical climate, its mountains and valleys, its beaches and jungles, Costa Rica offers a wide variety of cycling routes for all levels and tastes. From easy and calm routes, ideal for beginners, to challenging and extreme routes, that will test even the most experienced cyclists.
However, for many people, travelling to Costa Rica can be a distant dream. Whether due to time, money or logistics, many people cannot afford to travel to this beautiful country to enjoy its cycling routes.
But thanks to BKOOL technology, it is now possible to travel the cycling routes of Costa Rica from the comfort of your home. With BKOOL, you will be able to experience the natural beauty of Costa Rica through its indoor cycling platform, and cover impressive routes without leaving home.
Barba Volcano time trial
If you are an experienced cyclist looking for an extreme challenge, the time climb of the Barva Volcano in Costa Rica is a route that you should definitely consider. It is one of the stages that we can find in tests like the Trans Costa Rica.
The Barva Volcano, located in the central volcanic mountain range of Costa Rica, is the fourth highest volcano in the country, with a height of 2,906 metres above sea level. The time trial, which begins in the town of Birri, is one of the most challenging and spectacular routes in Costa Rica.
With a distance of 14.5 km, this segment saves a drop of 1200 metres. An ascent with an average slope of 9.48% and with ramps of up to almost 25%. Only suitable for the most daring.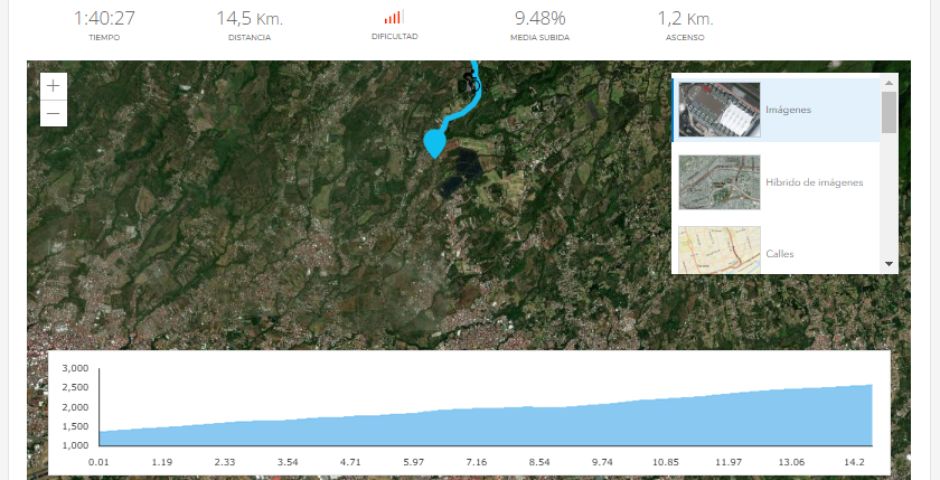 Tilaran / Province of Guanacaste
For lovers of long routes, in this proposal we start from La Fortuna, a small town in Costa Rica, located northwest of the capital, San José, to surround the Arenal Volcano National Park and Lake Arenal to Tilarán, located in a mountainous area at the western end of the Sierra Minera de Tilarán, a section of the Guanacaste Volcanic Range.
From this city it is possible to see the Miravalles and Tenorio volcanoes and from a few kilometres to the east you can also see the Arenal Volcano.
From there we return to La Fortuna to complete a route of 152 km and more than 2,700 metres of positive elevation gain.
IRONMAN 70.3 Costa Rica
If triathlon is your thing, Costa Rica also offers opportunities. For example, the cycling segment of IRONMAN 70.3 Costa Rica : 90 km with 790 metres of positive elevation gain where tri-sports fans will be able to enjoy a segment where names like Tim Don or Leanda Cave have flown.
And best of all, you don't need to be an experienced cyclist to enjoy these routes. Thanks to BKOOL technology, you can find many more routes of different levels of difficulty, adapted to your needs and abilities. In addition, you will be able to enjoy the full experience thanks to the videos and virtual reality, which will transport you directly to different parts of the world geography.
If you are a cycling lover, you cannot miss the opportunity to discover the beautiful cycling routes of Costa Rica through BKOOL. Get ready for adventure!
If you haven't had the chance to try BKOOL yet, you can try it for FREE for 30 days on our website.