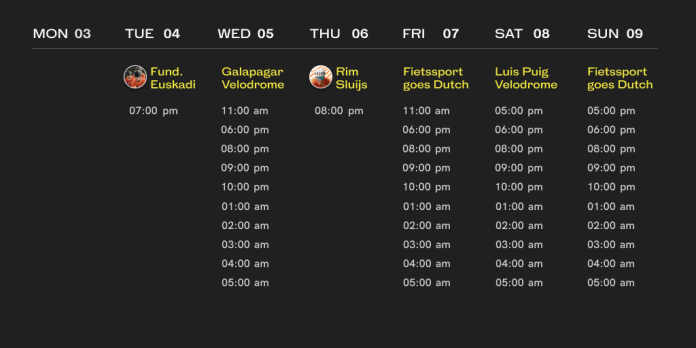 The month of May is beginning and with it a new week full of challenges, competitions and workouts at BKOOL.
On Tuesday 4 May at 19:00h (CEST) we will be hosting a Group Ride with riders from the Euskadi Foundation on a 17-kilometre route that will impress everyone. Antonio Soto and Gabi Bravo will be in charge of leading this Group Ride that will take you through Switzerland along the final route of one of the last stages of the just finished Tour de Romandie.
For those of you who enjoy the velodrome, on Wednesday 5th we will have sessions all day long where you can ride 20 kilometres at the Galapagar velodrome. And if that's not enough for you, on Saturday 8th you can repeat the challenge this time at the Luis Puig velodrome.
Dutch cyclist Rim Sluijs will be leading a Group Ride on Thursday 6 May at 20:00h (CEST) on behalf of Fietssport, together with whom we have organised a competition for the month of May that will take you to the Netherlands.
Fietssport goes dutch by BKOOL will start with the Group Ride together with Rim Sluijs and will consist of four stages through the beautiful Dutch landscapes. In this first stage of the competition you will be able to ride for 30 kilometres through the south of the country and compete to be at the top of the ranking with cyclists from all over the world.
The dates and times to join this week's Group Rides can be found both in the image above and on our website. Remember to mark them in your calendar so you don't miss out on the chance to compete with your favourite riders!