The summer holidays are upon us and for many it is a worry to abandon the usual exercise routine on the treadmill. This period of rest, characterised by outings and meals in restaurants, is a challenge when it comes to keeping in shape away from home. But is it possible? Of course, we're going to give you the keys to achieve it.
No smart trainer: how to stay in shape outside the home 
There are a number of exercises and routines that are very suitable for keeping in shape during the holiday period, as they do not require specific and heavy equipment to perform. The first thing to do is to estimate the exercises you are going to do according to where you are on holiday.
The usual summer involves enjoying high temperatures and pleasant weather, so it is best to choose outdoor exercises.
Go for a run during the cooler hours of the day 
Going for a run is a good way to maintain your fitness. Not only will you enjoy the outdoors, but you won't need anything more than running shoes and sportswear to do this sport.
When running and practising any other outdoor exercise, you should be careful with the high temperatures of both the mountains and the sea in summer. Avoid the hours of greatest sun exposure. It is best to go running in the early morning or late afternoon.
Exercising during the hottest hours increases the likelihood of dizziness, low blood pressure or even sunstroke.
Ride your bike on mountain trails
If you miss indoor cycling, you can consider renting a bike and going out on different routes. This way you will continue to exercise on a bike and practice it in a different way than you are used to.
Always make sure you are well hydrated, wear a helmet and have your mobile phone or a device with which you can be located, to avoid any scares.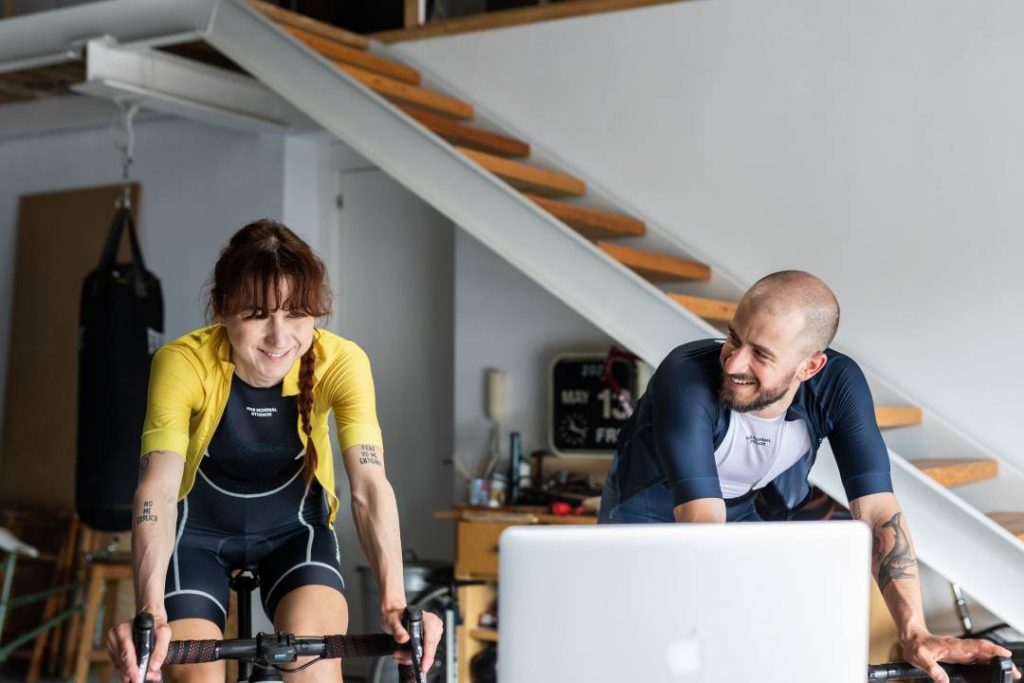 Take mountain hiking routes
In case you want to forget about your bicycle during your holidays or you can't rent one, you have the option of going on mountain hiking trails.
For this, you will need appropriate footwear for walking for several hours and in rocky areas. In addition, it is advisable that you go hiking with someone who knows the route well.
With this exercise you will be able to enjoy wonderful landscapes at the same time as keeping your rhythm active. The return to the routine will not be so physically demanding.
Practice water sports
The easiest sport you can practice is swimming. If you are spending your holidays near the coast, you have at your disposal hundreds of kilometres of sea to swim in. If, on the other hand, you are in the mountains and there is a river area nearby, you can take advantage of it as well.
In the case of the coast, it is true that it is much more complicated to swim in the sea than in the pool, but you can swim without any problem as long as the tide is not too rough and there is not too much swell.
If you prefer to do somewhat different sports, you also have the option of surfing or paddle surfing. For both, you will need to rent a board and for paddle surfing you will also need to have a paddle. These are fun and entertaining sports, with which you'll be doing some pretty intense physical exercise.
High intensity workouts
Workouts such as HIIT (High-Intensity Interval Training) can be done anywhere.
They are very short workouts, just twenty minutes or half an hour at the most that you can do anywhere. In addition, you don't need any equipment, just an exercise routine sheet so you don't get lost during the workout.
Conclusions
Active rest is very important and vacations are the perfect time to do it. If you are not going to have your smart trainer during this time, don't worry, there are many exercises with which you can keep in shape away from home.
Depending on where you are and the equipment you have available, you can do some exercises or others, but they are all equally valid for staying active. BKOOL's customised modalities and settings will help you get back into your routine when you return from holiday.