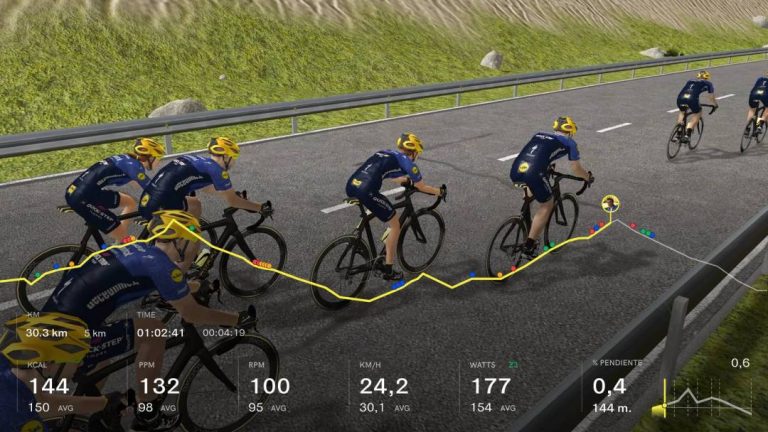 The third stage of the Zycle Cup has begun, the competition that will be active during the whole month of September and in which you can win fantastic prizes. Throughout the week we will have group rides on the island of Lanzarote, which is another island with breathtaking landscapes that the Canary Islands has to offer.
This week the route is quite easy to handle, which makes it accessible to cyclists of different levels. It has 13 kilometres available in video and 3D to ride through the Timanfaya National Park, one of the island's most popular tourist attractions. Group rides in Lanzarote will be available from Monday to Friday throughout the day. Every hour on the dot there will be a session ready for you to share your training with fellow BKOOLers.
On Thursday 23rd Urko Berrade Fuentes, one of the most promising cyclists in Navarre and current member of the Kern Pharma team, will join us in a group ride. If you want to take part in the event, join the Group Ride by entering the session that you will see highlighted with a little yellow star at 19h00 (CET). Do you reckon you are capable of standing up to a professional?
BKOOLers who take part in any of the stages of the Zycle Cup will be included in the draw for a set of Zycle accessories (mat, sweat cover and water bottle). In addition, those of you who take part in one of our group rides with professional cyclists can win an Essax or Kern Pharma team jersey. The biggest prize of all will only be available for those of you who complete the four routes that make up this island Zycle Cup by BKOOL. You will be able to win a brand new Zycle ZDrive Smart Trainer!
At the weekend, velodrome sessions will be held throughout the day to train at a time which best fits your timetable. On Saturday Luis Puig velodrome will be in charge of welcoming all the BKOOLers ready to ride for 20 kilometres. On Sunday 26th we will move to the Galapagar velodrome to finish off the week in the best possible way, giving our best on the Smart trainer!
Remember that you can try BKOOL Premium free for 30 days. Don't miss this opportunity to get to know the most realistic indoor cycling simulator with the widest range of routes on the market.