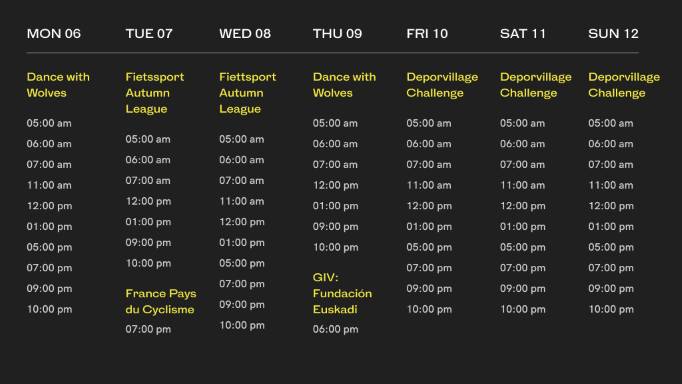 The Dance with Wolves competition comes to an end on December 10th and in order for you not to miss the opportunity to participate in its third stage on Monday and Thursday, we will have Group Rides scheduled throughout the day. This competition has been organized in collaboration with the Deceuninck – Quick-Step team, the No. 1 team in the UCI International ranking.
If you complete one of these Group Rides, your name will appear next to those of team members in the ranking of the competition. In addition, if you finish the three stages on the proposed dates, you will be eligible to win an official Deceuninck – Quick-Step jersey.
On Tuesday in collaboration with the French team GSC Blagnac Vélo Sport 31 we have prepared a ride in France. France Pays du Cyclisme event will take place on Tuesday at 19:00h (CEST) and will be attended by professional cyclists from the team.
Tuesday and Wednesday the competition you will have Group Rides in the BKOOL simulator will be Fietssport Autumn League, in collaboration with the Dutch cycling federation. Take advantage of this last chance to take part in this event, which ends on Wednesday 8 December.
Moreover, in the Giro d'Italia Virtual, we have prepared a Group Ride with members of the Euskadi Foundation team, with whom you will be able to ride through the streets of the Giro d'Italia 2021 without leaving home. If you are not yet registered in the Giro d'Italia Virtual you can try the Torino stage for free from its official website.
Friday, Saturday, and Sunday we invite you to participate in an event in collaboration with Deporvillage. In the Deporvillage Challenge, you will be able to train during the whole weekend accompanied by international cyclists in our Group Rides.
If you haven't tried BKOOL Premium yet, you can access a 30-day free trial on our website. Don't miss this opportunity to try out the most realistic cycling simulator on the market!