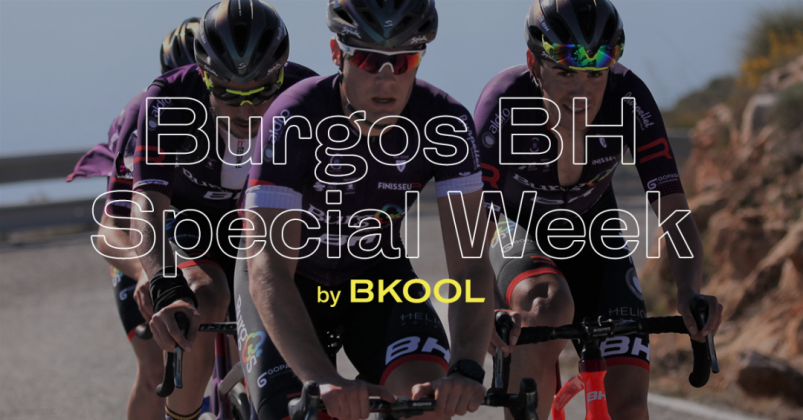 A Spanish team rider will lead a Group Ride with hundreds of fans from all over the world on a daily basis this week.
The Spanish professional cycling team Burgos-BH, of UCI ProTeam category, is collaborating with BKOOL from Monday 15th March until Friday 19th March to offer all users of the indoor cycling platform the opportunity to train with professionals.
The Burgos-BH team has its headquarters in the Spanish city of Burgos, and, as logic would dictate, the route chosen for these Group Rides is a route belonging to the Vuelta a Burgos, which includes video and 3D views.
In addition, Burgos BH riders will lead a Group Ride every day at 19h (CET), giving Bkoolers the opportunity to share this immersive virtual cycling experience with them. The route will be available throughout the week on BKOOL so that each fan can complete it at the time that suits them best.
The Group Rides agenda will be as follows:
Monday 15th March at 19:00 h (CET): Ángel Fuentes.
Tuesday 16th March at 19:00 h (CET): Juan Felipe Osorio.
Wednesday 17th March at 19:00 h (CET): Jesús Ezquerra.
Thursday 18th March at 19:00 h (CET): Ander Okamika.
Friday 19th March at 19:00 h (CET): Ángel Madrazo.
During each Group Ride, the cyclists will interact with the rest of the riders through their social media profiles and the official Instagram account of Burgos BH, exchanging impressions about the training session and surely, some funny comments. From BKOOL's social networks we will also keep the cyclists up to date with the latest news, don't forget to follow us to stay in the loop!
Among all the cyclists who complete the route from 15 to 19 March, there will be a prize draw for a jersey signed by all the Burgos BH riders and a 3-month Premium voucher for training at BKOOL.
To participate, you only need to have a smart cycling trainer and be a BKOOL user. Once you have connected your trainer and the simulator, all you need to do is complete the route within the scheduled dates to enter the rankings. To join the Bkool Group Rides you need a BKOOL Premium subscription. If you don't have one yet, you can get it for free thanks to the 30-day free trial available on bkool.com.
Joining the Group Rides is easy:
Log into Bkool Cycling at the time indicated for the Group Ride.
Select the session marked as FEATURED in the LIVE section of the Main Menu.
Enter the session and wait for the warm-up to finish.
Start racing!
This is a unique opportunity to enjoy a training session in the company of some of the best cyclists in the Spanish national squad. Don't miss this chance to show what you are capable of!