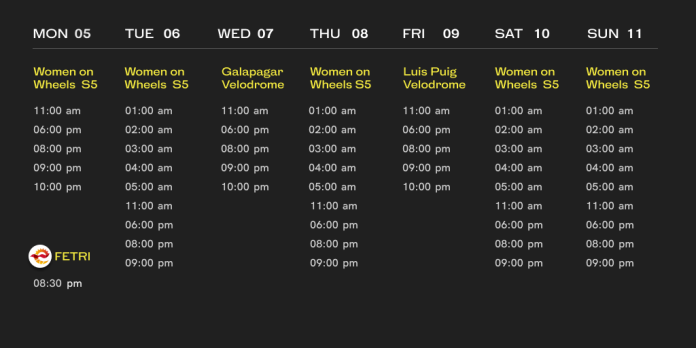 Another week full of breathtaking routes all over the world is starting with BKOOL. From April 5th to 11th we bring you Group Rides and competitions with which you can be sure that training from home is going to be more exciting than ever.
This week Bkoolers will be able to compete in the fifth and last stage of Women on Wheels with ELITE by BKOOL. This stage corresponds to the Paris Roubaix route, one of the shrines of French cycling. During 14 kilometres and with an ascension of 133 metres you will be able to enjoy riding with cyclists from all over the world.
On Monday 5 April at 20:30 h (CEST) our cyclists will have the great opportunity to ride alongside cyclists from the Spanish Triathlon Federation, the top triathlon organisation in Spain.
For those of you who are velodrome lovers, we have two days full of Group Rides for you. On Wednesday 7th April there will be five Group Rides which will take place at the Galapagar velodrome. In addition, on Friday 9th April there will be another five Group Rides to be held at the Luis Puig velodrome.
Last week, as many of you already know, Bkoolers were able to compete in the Milano-Sanremo EOLO Virtual with BKOOL and this week we will be revealing the winners of the prizes that were awarded in this competition.
The dates and times to join this week's Group Rides can be found both in the image above and on our website. Soon we will bring you more competitions and events not to be missed. Remember to mark them in your calendar so you don't miss out on the chance to compete with your favourite riders!