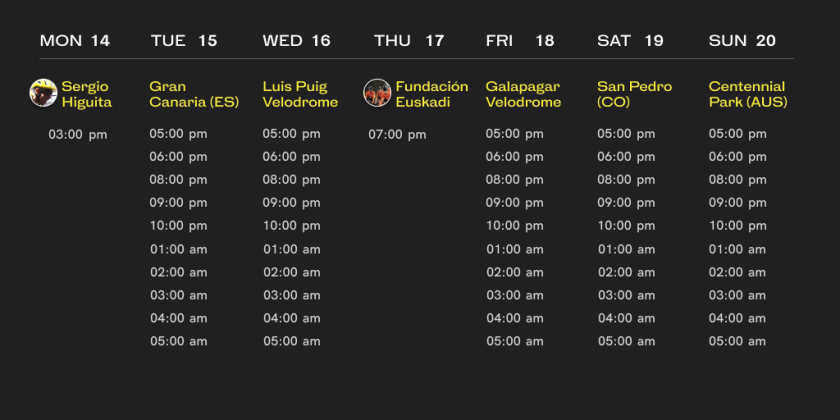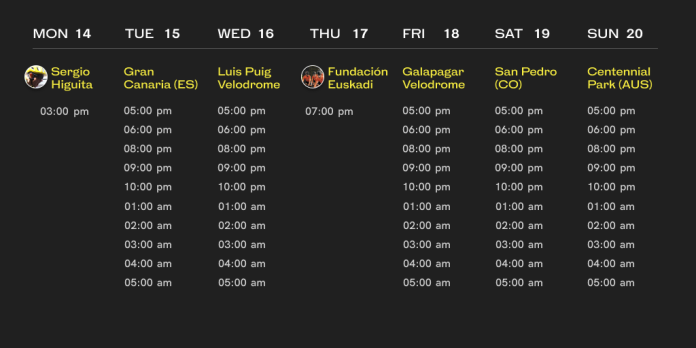 Are you ready to start the week full of energy? One of the biggest stars of Colombian cycling will lead a Group Ride on a route through his homeland. Sergio Higuita, one of the most promising cyclists of the moment, will be part of your squad!
On Monday 14th June Higuita will join BKOOLers at 15:00h (CEST) (8am in Colombia) on a route in Palmira, a Colombian town in Valle del Cauca. With a low difficulty level, this is a relaxed climb, suitable for cyclists of all levels, so don't miss the opportunity to ride with this legend!
Gran Canaria awaits us on Tuesday 15th with a spectacular video route. Ride through this paradisiacal island with your bike and enjoy the landscapes it has to offer. Thoughout the whole day you will be able to join other BKOOLers and train by the sea. If you feel in the mood for the beach, this is the route for you!
On Wednesday 16th and Friday 18th we have prepared sessions at the Luis Puig velodrome and the Galapagar velodrome. You will be able to do a 20 kilometre training session making it more enjoyable than ever as you will be able to compete with cyclists from all over the world to see who is the fastest.
The Fundación Euskadi, the UCI ProTeam Spanish cycling team, returns to training at BKOOL on Thursday at 19:00h (CEST). Mikel Alonso and Mikel Aristi, two of the stars of the Basque youth team, will be in charge of leading the peloton. Are you ready to take on the challenge?
And for the weekend we return to Colombia. Have you ever done a route with your group in San Pedro de los Milagros? This small Colombian town is one of the most touristic towns in the country and this Saturday we propose a little getaway to the area for you. On Saturday 19th BKOOLers will have Group Rides scheduled throughout the day to discover a little more about what Colombia has to offer.
To end the week on a high note, you can transport yourself to Australia on Sunday the 20th. In the heart of Sydney, Centennial Park is one of the favourites for Australians when it comes to cycling. Make the most of it and join this 19-kilometre route to finish off the week giving the best of yourself. It's up to you whether you want to enjoy a pleasant stroll through the park, or take on your rivals…
If you are not yet a BKOOL member, joining the #TeamUnlimited is as simple as logging on to our website and taking a 30-day free trial.