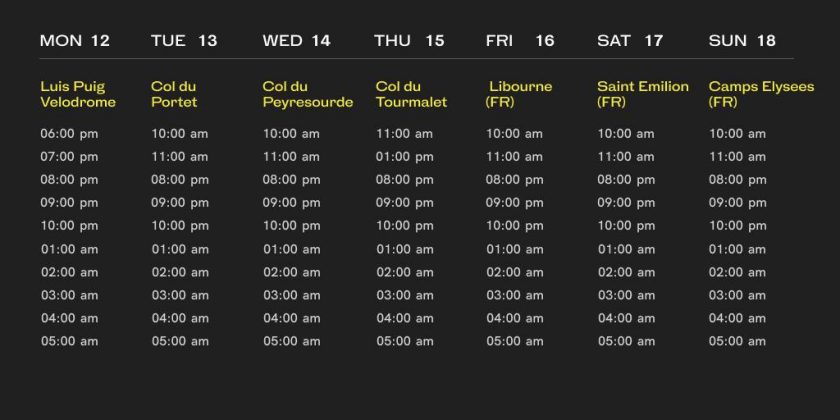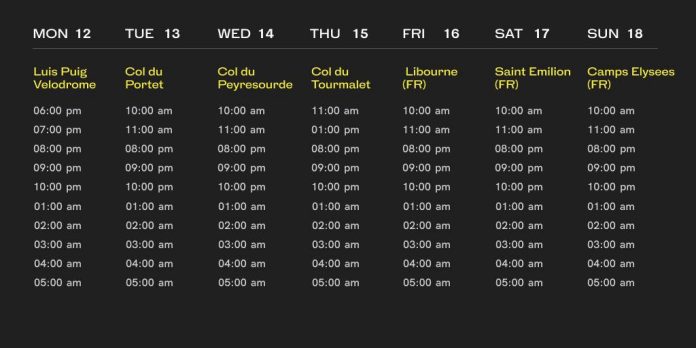 Once again this week we are taking our Group Rides to the famous French mountain passes to enjoy the challenge they represent
We start the week with velodrome sessions distributed throughout the day so that whatever your schedule is, you can train with other BKOOLers. The Luis Puig velodrome opens its doors to us for 20 kilometres of training suitable for cyclists of all levels.
The highest mountain pass in the French Pyrenees will welcome the most daring riders on Tuesday 13th. You will have the opportunity to ride the Col du Portet for 6 kilometres on a route that is short in length but can be quite a challenge due to its gradient.
On Wednesday we bring you the Col du Peyresourde, considered to be the second most historic climb in the French Pyrenees and the famous pass of the Contador vs Rasmussen rivalry. It will consist of 11 kilometres full of pure adrenaline in which you will enjoy racing among friends and BKOOL colleagues.
The Col du Tourmalet will be the challenge prepared for Thursday 15th July. This mountain pass captures the essence of French cycling and is famous for its tough ramps. Those of you who take part in the group rides will be able to ride 17 kilometres of this mythic asphalt with a climb of 1.2 kilometres.
On Friday we have a less difficult route prepared for all of you. For 30 kilometres you can ride through Libourne on an easy route that will take you through the heart of France in an area full of vineyards.
Saint Emilion will welcome you on Saturday 17th to work up a sweat on the 30 kilometres route. This little village, known mainly for its wine, also has a lot to offer to cyclists from all over the world with its hills and steep roads.
We will finish the week with a final sprint on the Champs Elysées. Seven kilometres through the centre of Paris that will make you feel like true professionals of this sport. What better way to close the week than with this little challenge which is also the dream of every cyclist?
Remember BKOOLers that through our Discord channel you can chat with each other and meet up for group rides that you want to ride. And if you are not yet part of our community, on our website you can get a 30-day trial as a BKOOL premium user.