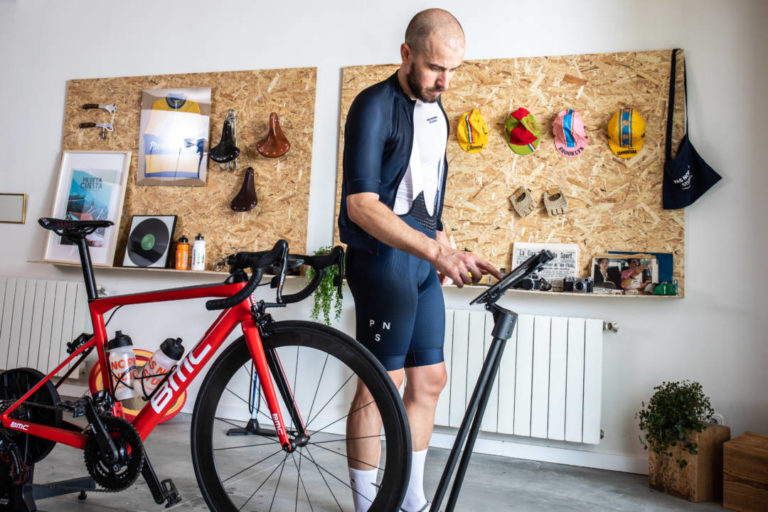 As athletes, we don't always find the motivation to tackle the training sessions on our schedules – and that's okay. It's normal to have days when the desire just isn't there. But breaking the commitment to your goals is not something to make a habit of if you're taking the sport seriously.
Indoor cycling with smart trainers has become a vital tool when training becomes difficult due to lack of time, inclement weather or simple laziness. But when demotivation – or any other excuse – gets in the way, no amount of extra gear can save your workouts. That's why athletes need to acknowledge that these situations will always occur in our daily lives, and erect barriers to the inevitable excuses by creating the best training space you can.
The more obstacles you encounter in your training, the more difficult it will be to overcome your own laziness. So turn the equation around: YOU must be the one to erect obstacles to laziness by setting up the best space you can for your indoor workouts.
That doesn't mean having a fancy or flashy "pain cave" to brag about on social media. It just needs to be practical, someplace that will make your sessions more effective, easier to do, and harder to ignore. Here are some of our tips for setting up the ideal training space.
Accessible
From the moment you make the decision to get on the trainer until you start pedaling, you should encounter as few barriers as possible. Ideally, you'll have a room with enough space to keep the trainer set up all the time.
Many athletes create a dedicated room where they have all the necessities for their workouts at their fingertips.
If you have to move a table and chairs, take your trainer out of a closet and carry it to the kitchen, then bring your bike in from another room before you can train, you're knocking on the door to laziness.
Appropriate
A hallway in your home, with its confined space and lack of ventilation, is probably not the best place for an indoor cycling workout. Neither is an uncovered terrace where you're exposed to the elements.
As soon as you get on the trainer, you'll appreciate having a place protected from weather, where you have good lighting, ventilation, enough space to feel comfortable, some way to entertain yourself (television, computer, music player, etc.) – and, of course, access to BKOOL.
Comfortable
Your training space should not only be accessible and appropriate, it should also be comfortable. Once you get on the trainer, you should have everything you need for your workout within easy reach – nothing's more frustrating than being forced to climb off the bike in the middle of a session for something as simple as grabbing a towel.
Make sure you have a table or shelf next to you, and equip it with everything you think you might need during your workout: hydration, food, towels, your cell phone, tv remote,…
BKOOL never stops working to make simulations more and more real. Try it FREE for 30 days!