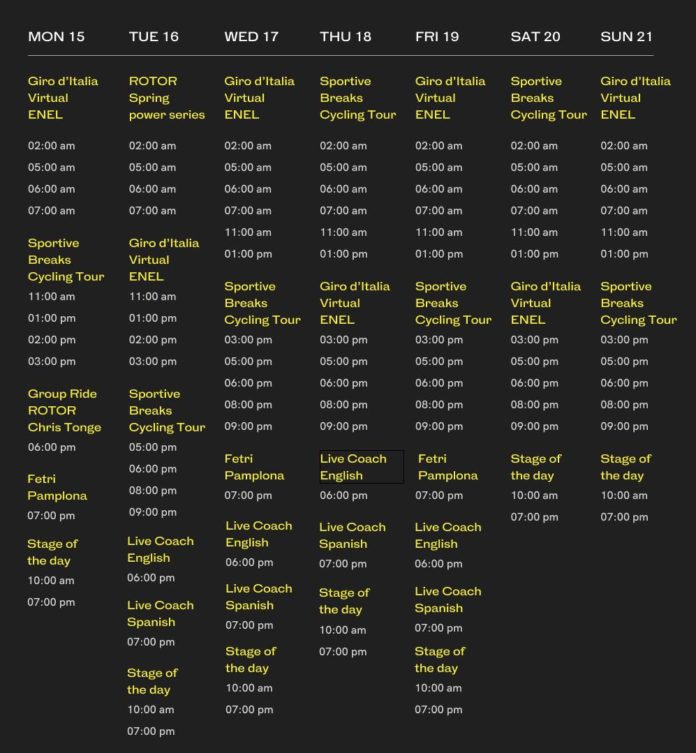 A new week is coming where you can train with other BKOOL users in various events.
On Monday 15th May, stage 4 of the Giro d'Italia Virtual ENEL 2022 Part 5 begins. In this stage, Ponte di Legno – Lavarone, you will cover a distance of 7.6 km that will allow you to discover the Italian mountains. You can compete with other Bkoolers in a stage that your favorite cyclists have also completed.
On the same day, stage 3 of the Sportive Breaks Cycling Tour event begins. Ibiza-Cala Conta is a route that will transport you to the summer air of this Spanish island. Are you up for discovering it with cyclists from all over the world?
Last chance to take part in the ROTOR Spring Power Series event! Stage 4, Positano-Castiglione, takes you to the beautiful landscapes of the Amalfi Coast. Bid farewell to this event as it deserves, and fight to beat your time against other competitors.
Compete in the north of Spain in the FETRI Virtual – Pamplona 2023 Group Rides. A great opportunity to train, compete and push your limits while touring the north of Spain. Join our Group Rides and reach your goals!
In addition, from Monday to Friday at 6pm (CET), you can enjoy a live training session with a coach with Live Coach by Watts Labs. Connect to our Discord channel, do the featured workout of the day, and receive personalised feedback live.
And lastly, don't miss our Stage of the Day, where you can ride the stage of the Giro d'Italia taking place that same day in our simulator. Compete in one of the most important races on the calendar without leaving home!