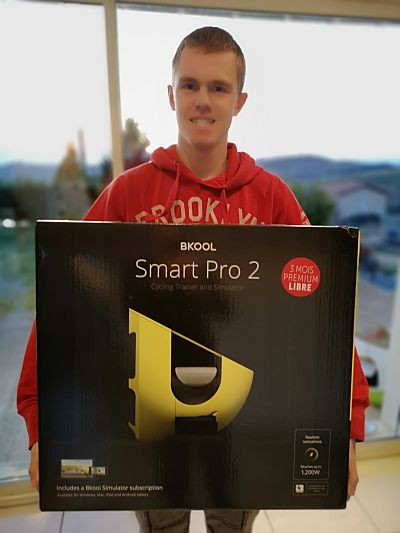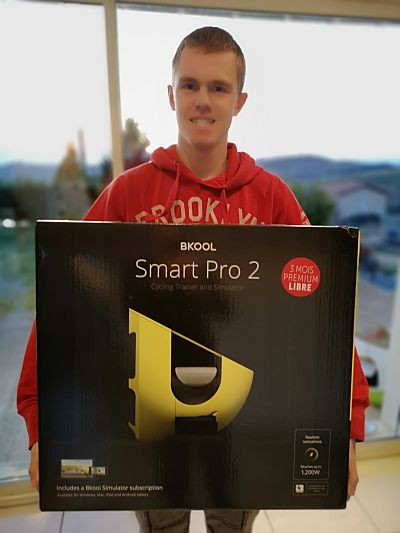 Read this inspiring story of Mattéo, a French triathlete with autism who proves that nothing can stop him from reaching his dream: the Ironman World Championship of Kona.
Fréderique Ruberti, his father, told us the story behind Team Ruberti. We would like to thank them for contacting Bkool and for letting us support their challenges.
Currently, Mattéo is the French junior champion at 1500m and 3000m. His goals for this year are to repeat as champion in 3000m and to participate in 5000m. But his greatest challenge for 2019 is to race triathlons alone without the tandem, on his own bike. His plans don't end there: his first Half Ironman will be waiting him for him in 2020, among other challenges.
We invite you to read his story as told by his father Fréderique:
"Mattéo is 17 and when he was 10, he was diagnosed with autism. For five years he has found in sports a means of expressing himself with people without disabilities.
It all started when he was 12. We borrowed a tandem bike and Mattéo was thrilled with it. Two months later, we went up Mont Ventoux from Bedoin. The mutual understanding we felt through sport started right there and then. And ever since, Mattéo has continued to make progress in every discipline he's tried. We fell in love with triathlons and now we start them together, do the swim together, one next to the other, we do the cycling part on a tandem bike and we run together. But last summer, Mattéo decided to ride by himself on a road bike.
The tandem has really helped his progress and given him confidence in himself. He realizes that despite his disability, if he decides to accept a challenge, nothing can stand in his way. One of his next goals is to try a Half Ironman in 2020 before making the leap in a few years to an Ironman and qualifying for the Kona Ironman and the World Championship. The Bkool Smart Pro 2 trainer and the Bkool simulator will really help him achieve his goals.
Because of my job I can't always go out riding with him, and since he's taking a vocational landscaping course in high school, it's not always easy to sync our schedules. With his Bkool PRO 2, he can ride home alone and work on his specific needs in complete safety while pitting himself against other rivals online.
The Bkool will also provide an excellent tool to help him learn how to properly manage his speed changes based on the profile so he won't wear himself out needlessly at speeds that are unsuited to the route.
Though he's no longer afraid of going fast on the road or of other riders, his last minor hurdle to overcome remains keeping his posture when getting out of the saddle. The Bkool will help him settle into a more relaxed posture when pedaling upright and improve his posture to be more efficient.
For Mattéo, the Bkool Smart Pro 2 is a true ally to achieving his goals and making progress from the safety of home, no matter the time of day or how long he devotes to it.
I fully believe in Mattéo because he has shown he's capable of doing great things and I'm convinced that someday he'll be at the start line in Kona.
And he'll do it thanks to the support and help from Bkool."

Frédéric,
Mattéo's father