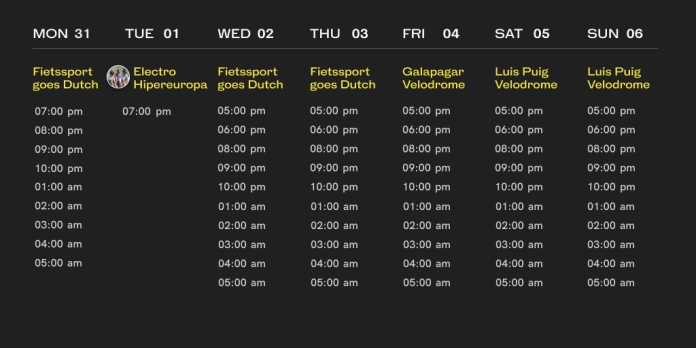 The last chance to participate in Fietssport goes Dutch by BKOOL, Group Ride with members of Electro Hiper Europa and a weekend at the velodrome.
This week the last stage of the Fietssport goes Dutch by BKOOL competition comes to an end. We have prepared Group Rides on Monday, Wednesday and Thursday for you to enjoy the spectacular route through the Netherlands. Take advantage of this last chance to discover the surroundings of Maastricht!
Ride with Electro Hiper Europa in a Group Ride organised on Tuesday at 19:00h (CEST). Electro Hiper Europa is an Argentinian team based in Spain, born to foster the development of some of the most promising young talents in world cycling.
The team is full of promising young riders, full of junior champions, and is expected to offer us some of the next leaders of international cycling. You will be riding with seven of the most promising young riders in international cycling: Marcos Jurado, Oscar Pelegrí, Miguel A. Ballesteros, Mateu Estelrich, Byron Munton, Thomas Armstrong and Víctor Martínez.
This weekend will have three days full of Group Rides at the Galapagar velodrome and the Luis Puig velodrome. BKOOLers from all over the world will be able to practice together on Friday, Saturday and Sunday with Group Rides spread throughout the day.
The Group Rides schedule can be found in the image above and on the BKOOL website. It is very easy to join the Group Rides:
Log in to the BKOOL app at the indicated time.
Select the session highlighted with a little yellow star in the LIVE section of the Main Menu.
If you can't find it, scroll until it appears.
Enter the session and wait for the warm-up to finish before you start racing.
Remember that all you need to become a BKOOLer is a smart cycling trainer and an account on the indoor cycling platform. Participation is open to cyclists of all levels and nationalities and can be done for free thanks to the 30-day trial available on bkool.com.