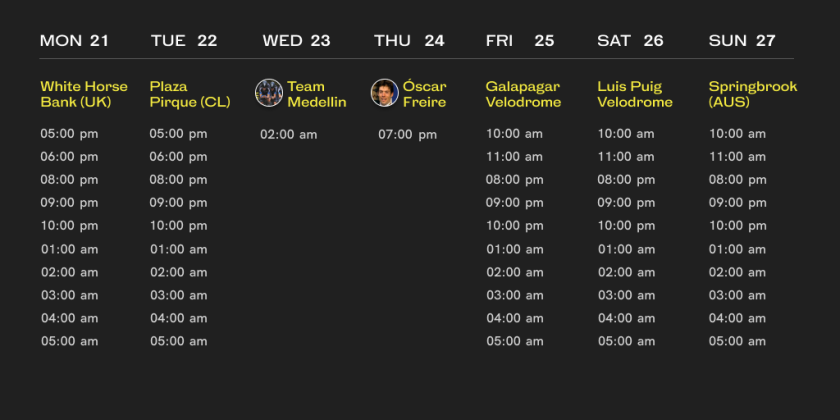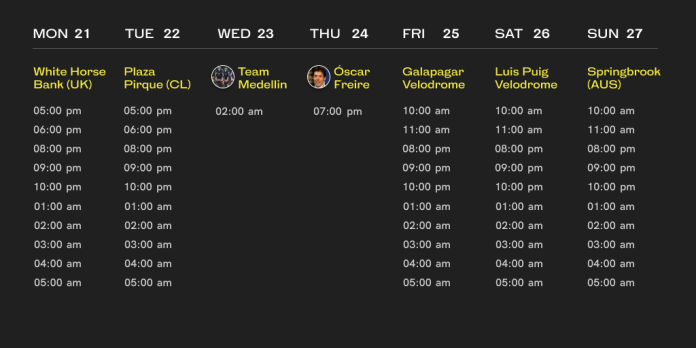 We start the week of 21st to 27th June with some proposals that you won't be able to resist and that will make training from home an unforgettable experience
Monday 21st will be packed with Group Rides on a 10km route through the spectacular English countryside. You can cycle throughout the day on the White Horse Bank, a hill on the slopes of the North York Moors National Park. This is a medium difficulty route with an ascent of 326 metres very popular among cyclists in the area.
Ready for a more challenging ride? On Tuesday 22nd we have Group Rides prepared throughout the day in Chile. The route will take us from Plaza Pirque to San Carlos in the Puente Alto region, with a distance of 20.5 kilometres and an ascent of 260 metres.
This week five members of Team Medellin will lead a Group Ride on Wednesday at 2:00am (CEST), which in Colombia will be 19:00h (GMT-5). They are coming fresh from a spectacular performance at the Vuelta a Colombia, where José T. Hernández took first place and Brayan Sánchez won the mountains jersey.
Take part and try to keep up with the following professionals in their own field:
José Tito Hernández 
Robinzon Oyola
Walter Vargas 
Weimar Roldan 
Robinzon Chalapaud
Challenge the great Óscar Freire on Thursday 24th on the course of one of his favourite races, in which he has conquered glory three times, the Brabanzona Flèche! This Thursday at 19:00h (CEST) it will be you who will have the chance to challenge the three-time Spanish world champion in the sprint.
For those of you who enjoy training at the velodrome on Friday 25th, you won't have to ride alone. We have prepared a day full of Group Rides at the Galapagar velodrome for you to enjoy training with fellow BKOOLers. And if that is not enough for you, Saturday 26th will be full of Group Rides at the Luis Puig velodrome.
We end the week in style with a trip through Springbrook, an Australian national park in a landscape you'll love. Enjoy this video and 3D route that will make your training a holiday.
To participate in these Group Rides, all you need is a smart cycle trainer and a BKOOL account. And the best thing is that you can do it completely free of charge thanks to the 30-day trial available at bkool.com.