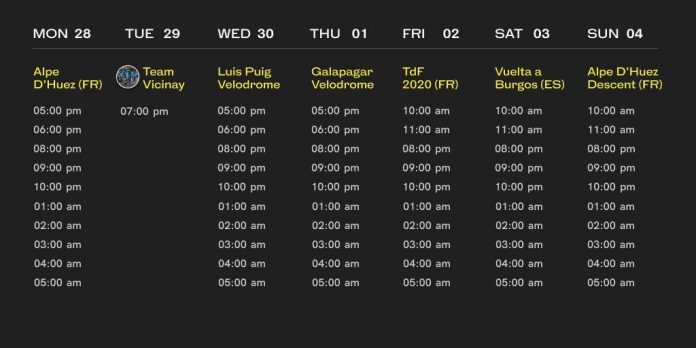 We start the week with a bang by riding on Monday 28th through the French Alps on a stunning video and 3D route. For 12 kilometres you can enjoy the Ecrins National Park, a mountainous terrain full of nature in its purest form. This route has an ascent of one kilometre, which makes it a challenge for even the most experienced BKOOLers.
On Tuesday 29th we bring you a Group Ride with the great promising stars of Basque cycling. Members of the Vicinay, the Basque cycling quarry, will join us in the Clasica of San Sebastian. Where better than in their homeland to challenge them and see who is the best? On Tuesday at 19:00h (CEST) you have an appointment to test your level.
For those of you who are looking forward to a velodrome session, Wednesday 30th and Thursday 1st are all yours. During both days we have prepared Group Rides throughout the day at the Luis Puig velodrome and the Galapagar velodrome, respectively.
On Friday 2nd we bring you a slightly shorter training session so that you have time to enjoy the weekend without missing out on your training. We are moving once again to France, where you will ride with BKOOLers from all over the world on the Côte de l'Estiade. And don't be overconfident, these four kilometres are of medium difficulty due to their ascent.
Are you up for a bigger challenge? On Saturday 3rd for 25 kilometres the Vuelta a Burgos returns to BKOOL. Throughout the day you will have Group Rides available to test your skills on the bike.
On Sunday we close the week by returning to France and the magnificent Alps. For those of you who were left wanting more on Monday, this time we bring you the descent to Alpe d'Huez, a route with a similar distance but with a lower level of difficulty.
To participate in the BKOOL Group Rides you need a Premium subscription, and if you don't have one yet, you can try it for free for a month on the BKOOL website. What are you waiting for to join the #TeamUnlimited?