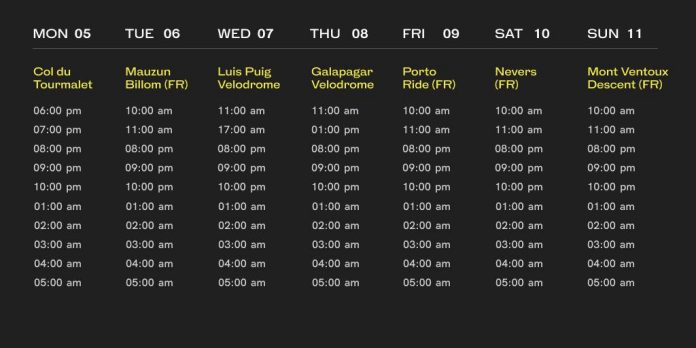 July is here and with it comes the will to travel and ride through new landscapes. This week we propose a trip on your Smart trainer to France and its spectacular routes for you.
We start with a route over the Col du Tourmalet, a mountain pass located in the heart of the French Pyrenees. It is one of the most desired mountain passes in the world and the one that all cycle tourists dream of climbing at least once in their lifetime. On Monday the 5th you will be able to ride 17 kilometres of this mountain pass with a climb of one kilometre.
On Tuesday 6th we have prepared a route from Mauzun to Billom, two small French villages. The route is available both on video and in 3D and will take you on a 19 kilometre trail full of nature with little difficulty.
Wednesday and Thursday will be dedicated to those of you who enjoy training at the velodrome. On both days we will have group sessions distributed throughout the day at the Luis Puig velodrome and the Galapagar velodrome respectively.
Our proposal for Friday 9th is a route along the coast of Partinello, this 16 kilometre route will delight those of you who are in the mood for sea this week. The island of Corcisa awaits you BKOOLers!
The French Burgundy is the next place chosen to continue this tour of the country. On Saturday 10th we have prepared a 5km route in Nevers. This route is perfect for those looking for a quick, low-intensity workout.
We say goodbye to the week from Provence by riding the descent of Mont Ventoux. This is one of the most legendary mountain passes for mountain bikers in France and for 21 kilometres it will be all yours. Are you up for the challenge?
Do you want to take part in group outings but are not yet a BKOOL user? From the BKOOL website you can take a 30-day trial as a Premium user.