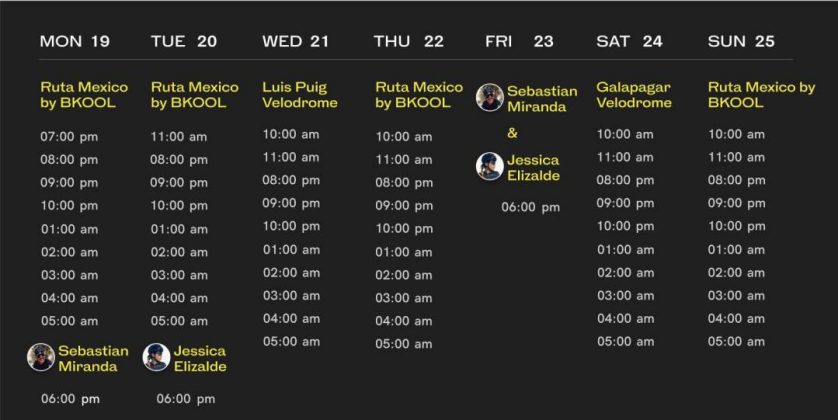 The Tour de las Americas by BKOOL kicks off this week with the virtual edition of Ruta Mexico which will take place at BKOOL from 19th to 25th July.
The chance to complete the virtual edition of the Ruta Mexico with BKOOL comes just a few days before the actual edition of the Mexican Gran Fondo takes place. This event will be active for seven days during which you will be able to complete the route as many times as you need to climb up the rankings.
Jessica Elizalde and Sebastian Miranda will be leading this week's Group Rides as the official Ruta Mexico ambassadors:
On Monday 19th July at 18:00 (CEST) and Friday 23rd July at 11:00 (Mexico time) Sebastian Miranda will join BKOOLers from all over the world to compete for the best place in the rankings.
Jessica Elizalde will join us on Tuesday 20th at 18:00 (CEST) and Friday 23th at 11:00 (Mexico time), where you will have the opportunity to ride with her and Sebastian at the same time.
Looking for more? Just for participating in Ruta Mexico Virtual by BKOOL you will be automatically entered into the draw for a spectacular race jersey. All you have to do to take part is to complete the route in BKOOL and save your session. Dare yourself to take part in one of the most spectacular races in Mexico!
In addition, among the Mexican BKOOLers who participate in the edition, a free registration for the real edition of the Gran Fondo to be held in León (Guanajuato) on 8th August will be raffled. The registration includes another jersey as a gift!
For those of you who prefer a velodrome session, Wednesday and Saturday will be packed with Group Rides at the Luis Puig velodrome and the Galapagar velodrome to give you the chance to ride alongside cycling enthusiasts from all over the world.
If this is your first time at BKOOL you can try it for free for 30 days by visiting our website.