Keeping fit is not synonymous with going to a gym. There are many different ways of exercising, both indoors and out, including at home. Getting into sports at home is becoming increasingly common and easy, thanks to new tools we now have at our disposal: from portable equipment or smart machines to cycling smart trainers. Want to start exercising at home? Here are some tips.
Why exercise at home?
It's not so much the place, but the workout. The important thing is to exercise and keep moving regardless of the space you have. There are many people who for reasons of time, money or accessibility cannot go to a gym to work out. Does this mean they should give up cardio or strength training? Not at all.
There are several alternatives, and the most convenient of them is training at home. Working out at home has a number of advantages:
Saving time and money.
Greater comfort and privacy.
Training anywhere.
Flexible schedule with more efficiency.
If you don't have enough money or time, it means adjusting the schedule and investment. Exercising at home can be a great solution that satisfies your need to be active and exercise.
How do I start exercising at home?
The most important thing is to have the desire and the will to train. The rest of the steps are even simpler. If you have desire, no obstacle will be able to stop you.
From here, determine the goals you want to achieve. These can be varied: staying in shape, losing weight, getting out of a sedentary lifestyle, toning your body, increasing muscle volume, etc. Setting an achievable goal will provide you with additional motivation to work out.
Once you've set your goal, it's time to create a strategy to achieve it. How? By establishing an exercise routine and training schedule to follow. Here you can count on the help of mobile applications for exercising at home. These apps can help you create a routine that's much easier to follow.
You can also consult a sports professional to customize your exercise routine and schedule.
However, these are not the only options. New fitness technologies have created several smart tools that help you get started exercising at home.
The smart cycling trainer is a great example of this. Not only does it offer the opportunity to cycle at home, but thanks to its link with simulators such as BKOOL, it also allows training sessions and classes to be designed according to previous experience in the sport and the goals you set.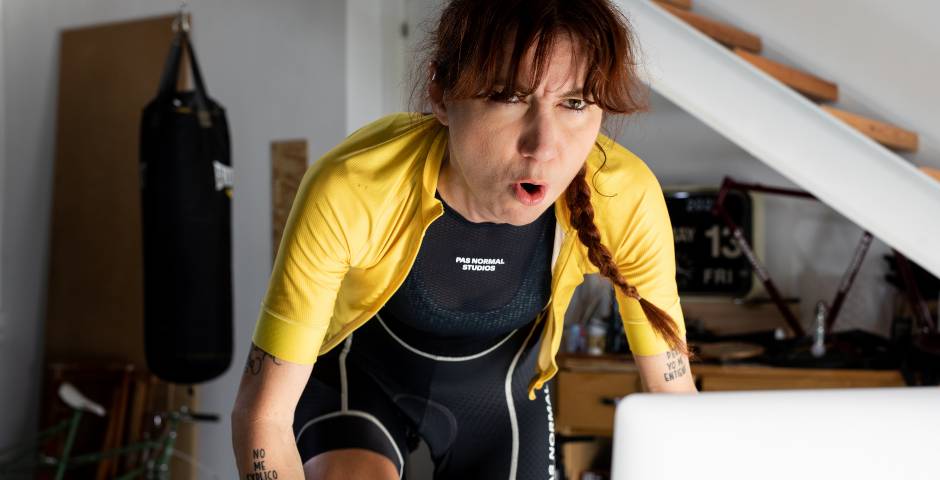 Tips for starting out in sport at home
Determining your objectives, routine and schedule is a fundamental step to get started with at-home sports, but the most important thing is to put it into practice.
Here are some recommendations to help make it easier for you to get started as a home-based athlete:
1. Establish an exercise routine
Select the days and times for your workout that best suit your lifestyle. Establishing this routine will help you repeat the dynamic and gradually build up your fitness. Over time, you'll find it easier and more enjoyable to exercise, as the physical and psychological benefits of the sport begin to show.
2. Choose the area of the house where you feel most comfortable
Make sure you choose a large enough space that offers you comfort and safety when training. Opt for places where furniture doesn't become obstacles to movement. If you're going to use a smart trainer, it is easier to select a place to ride, since it doesn't involve much space or movement.
3. Hydration at all times
Just as you hydrate during your workout in the gym or outdoors, hydrate at home as well. Hydration balances the moisture lost through sweat and helps maintain your energy. 
This is our advice to you when exercising at home. Nowadays, it's very easy to train at home, so we encourage you to try it. Set yourself a goal and work towards it.