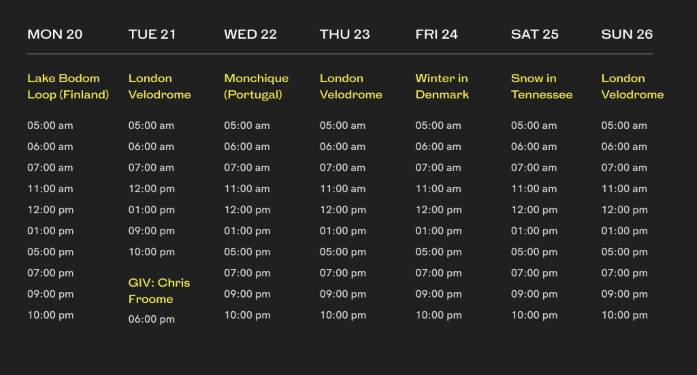 Christmas is getting ever closer and that's why this week we have arranged a truly special Group Ride. On Tuesday 21st December all BKOOLers will be able to ride the first stage of the Giro d'Italia Virtual hosted by BKOOL for free accompanied by a very special guest.
Chris Froome, former winner of the Giro d'Italia in 2018, will join us at 18:00h (CEST) riding with all the BKOOLers who want to join us on the pavement of Torino. This is a great opportunity not only to test your level with a worldwide star but also to try out the Giro d'Italia Virtual hosted by BKOOL, of which stage 4 has just started.
On Monday we will have sessions scheduled on the regular BKOOL schedule at Lake Bodom Loop. This is one of our riders' favorite trails, as it is a route with incredible views covering 16 kilometres with a gentle slope. You will enjoy the beautiful scenery that Finland has to offer!
Tuesday, Thursday, and Sunday we will all work out together at the London velodrome, the latest addition to the BKOOL velodrome section. The sessions will be a total distance of 20 kilometres where you will be able to compete with other BKOOLers to see who can get the best time.
Portugal will be the selected destination for Wednesday 22nd, with a short but intense route given its slope. This route in the south of the country takes us to Lagos area, famous for having a multitude of villages worth visiting. We recommend you to do the route in video mode to enjoy the fantastic views that it offers.
For December 24th and 25th, being such a special time of the year, we have decided to choose snow-covered routes that reflect the festive spirit. BKOOL will take you from Denmark to the United States with two low-difficulty routes to avoid getting too tired during the festive season.
If you are not yet a member of #TeamUnlimited but want to end the year in style, you can try BKOOL Premium for 30 days for free. It's as easy as logging onto our website and subscribing!