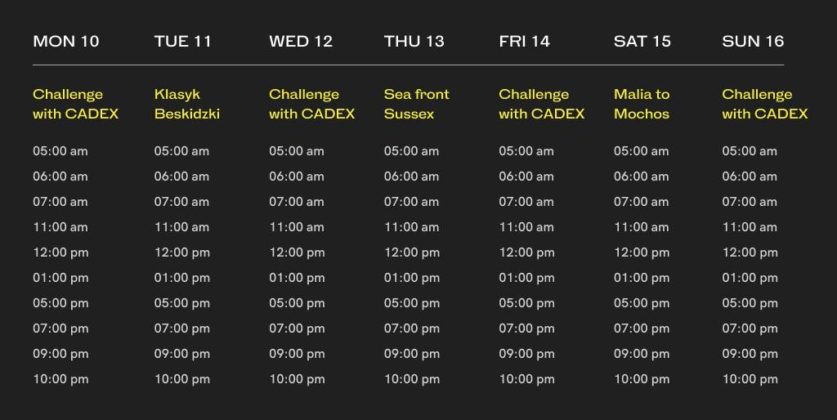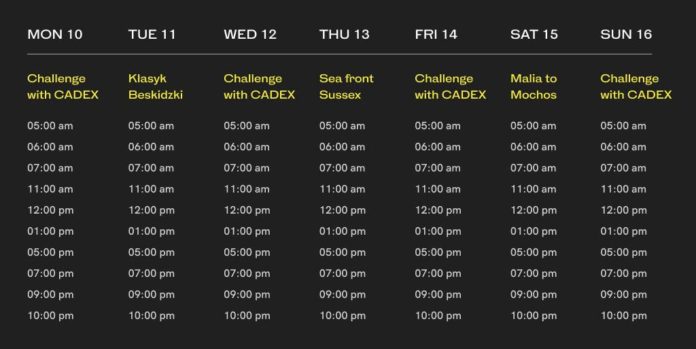 We start the week with the second stage of the Challenge Series with CADEX Cycling.
On this occasion we have prepared a route of considerable difficulty, with a climb of over a kilometre. From Monday to Sunday you will be able to ride in the Etna National Park and have your name added to the event rankings.
All BKOOLers who complete all four of the events between the scheduled dates will automatically get a special CADEX 3D jersey. And as if that wasn't enough, you will also automatically be entered into a draw to win an annual BKOOL Premium voucher, two CADEX cycling bottles and a Cadex Boost saddle.
In order for you to complete this route and enjoy the views with other indoor cycling enthusiasts, we have prepared Group Rides on Monday, Wednesday, Friday, and Sunday. Are you ready to take on the challenge?
The Challenge Series with CADEX Cycling competition routes take place in Italy, and at BKOOL we thought: why not train in different countries this week?
On Tuesday we will travel to Poland to enjoy a fourteen-kilometre route of easy difficulty. We recommend you to choose the video option, where you will enjoy the views of one of the most beautiful nature regions of the country and you will be able to ride alongside other cyclists.
We took a hop over to the south coast of the UK on Thursday. We've chosen an easy route that will help you slow down for a week of routes that will really make you sweat. Sea front Sussex is one of the BKOOLers' favorite routes, both for the incredible views and the moderate distance.
On Saturday we move to Greece with a route with views that will delight you. From the island of Crete we will be able to enjoy a short route but with a very intense flavour thanks to the slope we will be facing.
Haven't tried BKOOL Premium yet? You can access a 30-day free trial from our website and try thousands of video and 3D routes to ride from wherever you are. Don't miss out!