If you are looking for challenging mountain climbs, there are countries such as Chile that are an ideal destination for cycling enthusiasts. The Andean nation, with its wide variety of landscapes and terrains, offers endless options for cyclists.
That is why Chile is a country with a long tradition and passion for cycling. It has even produced great cyclists who have reached the world elite, such as Carlos Oyarzún, who in 2011 joined Movistar Team and became the first Chilean to finish the Giro d'Italia.
In addition, the country has organised several international events, such as the Vuelta Ciclista de Chile, which attracts cyclists from all over the world. In short, Chile's relationship with cycling is close and positive, and the country continues to be an important centre of activity in the cycling world.
If you want to get to know some of its roads and peaks, in this article we present you with 5 cycling climbs that you have to climb sometime in your life in Chile. But don't worry, you won't have to travel to the Andes. With BKOOL you can do so at home.
Manquehue Hill
Cerro Manquehue is a popular cycling climb in the Santiago region. With a distance of 7 km and an elevation gain of 700 metres, this route offers a moderate challenge for cyclists. The view from the top is spectacular, with panoramic views of the city of Santiago and the Andes Mountains.
This 38-kilometre route will not disappoint MTB lovers.
Osorno Volcano
The Osorno Volcano is a popular destination for cyclists due to its breathtaking scenery and challenging climbs. There are several bike trails that allow cyclists to explore the area and enjoy spectacular views of the volcano and the surrounding region, which has witnessed events such as the Gran Fondo Volcán Osorno.
Do you dare try this 12,4 kilometre climb with its 9,3% average gradient??
Los Libertadores International Pass
Los Libertadores International Pass, also known as Cristo Redentor, is the main transportation route connecting the Chilean capital of Santiago with Mendoza, across the border with Argentina.
The spectacular views of Aconcagua (the highest peak in South America) and the perfect series of curves we leave in our wake make this route a must.
This route is famous for its 29 zigzagging curves, a snapshot you've surely seen on occasion.
The first 20 curves trace a 4 km route with a change in elevation from 2275 m to 2550 m. The road then climbs gently for 2 km to an altitude of 2650 m (8,500 ft). The next 9 switchbacks start here and take us up to 2800 m over a distance of 2.5 km.
The more daring continue along an old unpaved road to the statue of Christ the Redeemer at the top. The wind, combined with the high altitude, will make the trip quite slow. The summit is at 3,840 m, and it is here that you will find the famous statue and breathtaking views of Aconcagua and the valley.
We suggest this 10 kilometre segment to get to know one of the most famous routes in Chile.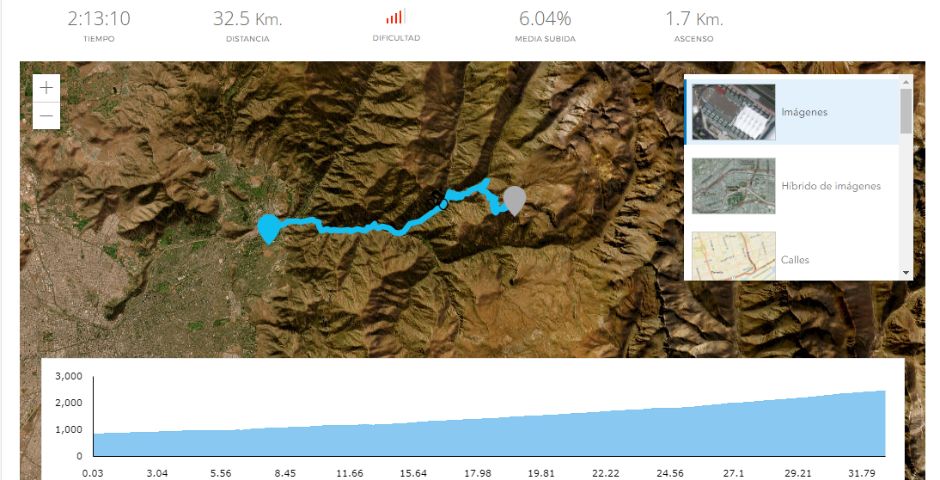 Farellones
Considered by experts as the mountain pass as the goal par excellence of the Metropolitan Region, Farellones offers us an ascent of more than 30 kilometres over 6% average gradient to save 1,700 metres of positive difference in altitude.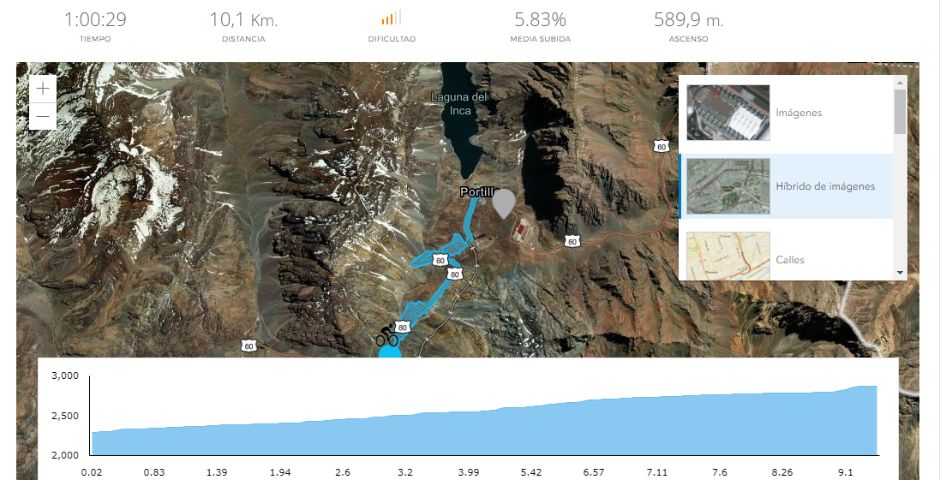 If you haven't had the chance to try BKOOL yet, you can try it for FREE for 30 days on our website.