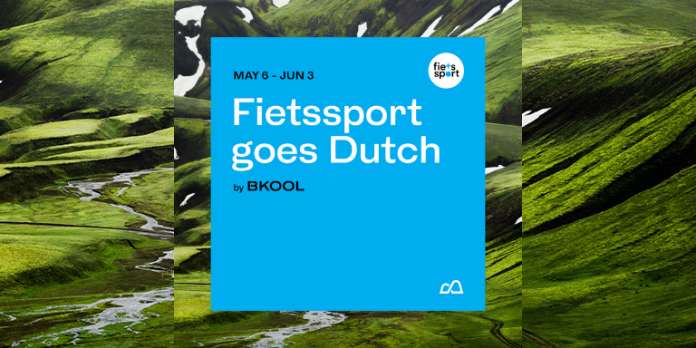 BKOOL and Fietssport join forces once again to bring you a competition where you can enjoy the unique landscapes of the Dutch country without leaving the comfort of your own house.
A few months ago we brought you Fietssport goes Spain by BKOOL, a competition that took us to unique corners of Spain. After the success of the event, we have decided to join forces once again to bring fans of virtual cycling a unique competition. On this occasion, we have been taken to the Netherlands to let ourselves be conquered by its spectacular landscapes.
The competition will kick off on May 6th and to kick it off in style we will be joined by Dutch cyclist Rim Sluijs. Sluijs will lead a Group Ride at 20:00h (CEST) on Thursday May 6th, in which he and the BKOOLers will enjoy the landscapes that his homeland has to offer.
This digital event consists of four different stages in which participants will have the opportunity to fight for the first place by training at home against international rivals. The video and 3D routes that make up each stage allow you to enjoy the beautiful landscapes of the Netherlands without the need for a Covid passport.
Each stage hides a stunning video to discover in the different regions of the country – it's like travelling without leaving your house!
Stage 1: ¡Vamos Brabant! by BKOOL (MAY 6 – MAY 12)
Stage 2: Hazetrappers (MAY 13 – MAY 19)
Stage 3: Sneek Dronrijp (MAY 20 – MAY 26)
Stage 4: AGR 2021 (MAY 27 – JUN 3)
To access the competition you just need to have an account on the BKOOL virtual cycling simulator, if you are not a user yet you can access it thanks to the 30-day free trial we offer on our website. The only requirement is to have a smart trainer to connect to your bike or a bike with ANT+ or Bluetooth.
And that's not all, Dutch cycling greats such as Han Tieltjes will continue to join the Group Rides this month. Follow us on social media and keep up to date with BKOOL news!