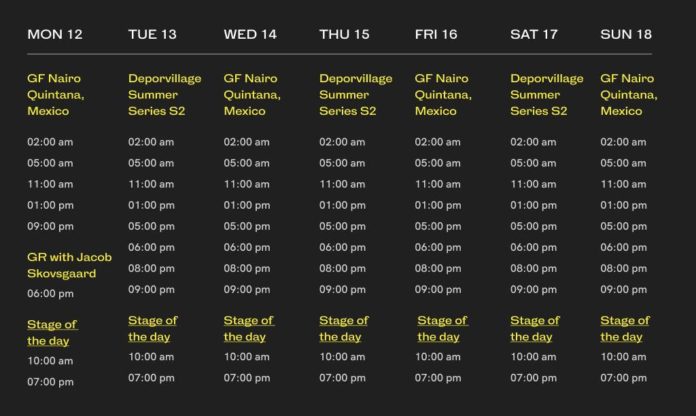 The second stage of the Deporvillage Summer Series and the tenth stage of the Tour of the Americas starts this week.
The Deporvillage Summer Series allows us to spend these last days of summer riding through some of the beautiful islands that Spain has to offer under the Mediterranean sun. This two-stage event will take us from the 12th to the 18th of September on the Alcudia-Mallorca route.
Just for completing both stages of the Deporvillage Series by BKOOL event, you will be entered into a draw to win an Oreka 05 RC smart trainer and have the chance to win two fantastic jerseys, which will be raffled among the participants of each stage. In addition, all those who have completed both stages will receive a 5% discount coupon to redeem on the Deporvillage website.
We reach the tenth stage of the Tour de las Americas Northweek extending our route this time to Mexico. This time we will ride in the Gran Fondo Nairo Quintana, a famous Colombian event that this year makes its first Mexican edition. Joining us on this route is Jacob Skovsgaard, who will be leading the Group Ride on Monday at 18:00h (CEST).
Among all the Bkoolers who ride and save the route from the 12th to the 18th of September we will raffle a pair of Northweek Regular sunglasses and a pair of Northweek Phantom sunglasses.
Remember that when the Northweek Tour of the Americas finishes, if you have managed to collect all the finisher bibs for each of the stages, you must send us an email to socialmedia@bkool.com and we will award you with 5000 BKOOL points so that you can exchange them for the virtual bicycles that are about to arrive at the simulator. You will also be entered into a draw to win a coupon for 3 free months of BKOOL Premium and a special edition Tissot Giro d'Italia watch.
We round off this week with the #StageOfTheDay of the week. This week's #StageOfTheDay are as follows:
At BKOOL we will continue working to make the simulation more and more real. Try it FREE for 30 days!