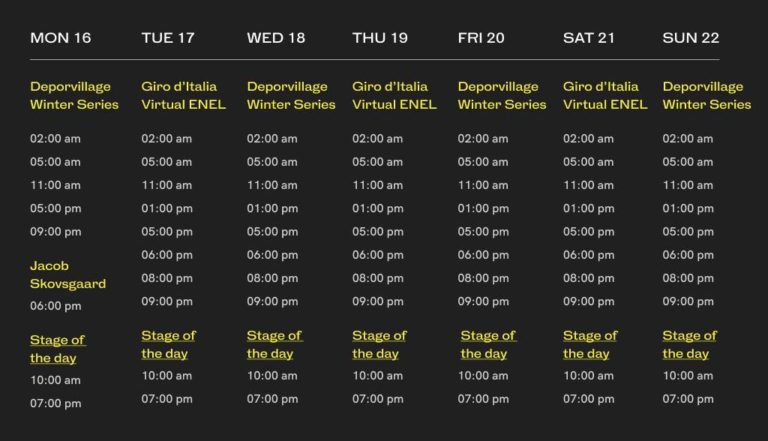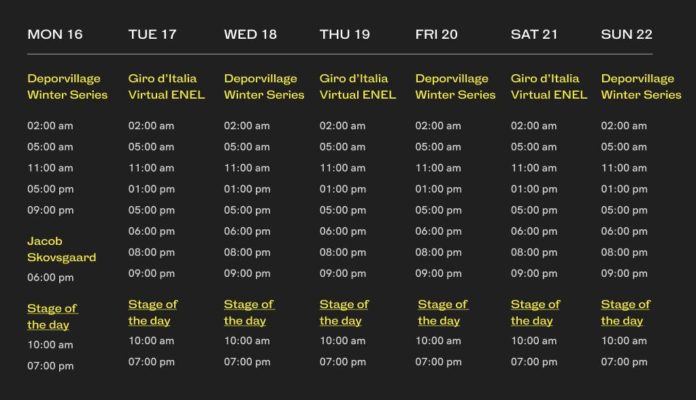 A new event that will amaze you with its winter landscapes is starting: Deporvillage Winter Series. Consisting of two stages, one per week, this event will be available on BKOOL Cycling from 16th to 29th January.
Just for taking part in the two stages of the Deporvillage Winter Series by BKOOL, you will automatically be entered into a draw for fantastic prizes. Stay tuned because the prize will be two Finisseur Core Indoor Blue kits.
This first stage will be ridden on the Storvreta MTB route, a route full of pure snow. To kick off the event in style, on Monday 16th we will be joined by Jacob Skovsgaard at 18:00h (CET) for a special Group Ride.
The most realistic virtual cycling experience on the market is also back. Immerse yourself in the real stages of the Corsa Rosa and enjoy first-hand the atmosphere, the incomparable landscapes, and the special aura that only this magical race can give off.
For the first stage of this third part of the Giro d'Italia Virtual ENEL hosted by BKOOL 2022, we will be riding on the Budapest – Visegrád route from 16th to 22nd January.
In addition, there will be some amazing prize draws. All those who complete all 5 stages of the event within the set dates will be entered into a fantastic prize draw for one of the following three gifts:
Hospitality pack for the Milano-San Remo for two people.
An official Giro d'Italia TISSOT watch.
Nutritional pack from Named Sport
At BKOOL we will continue working to make the simulation more and more real. Try it FREE for 30 days!