Professional and personal tasks take up a lot of time. For some amateur athletes, it is already a major challenge to set aside an hour for sport. It does not matter whether this time is spent in the gym or at home. For some people it is mission impossible to find space in their schedule for sport.
One of the favorite activities of cycling enthusiasts are cyclotourist rides, known internationally as Gran Fondo races. Although they are semi-competitive events, everyone wants to go fast and enjoy the stage in the best possible shape.
The desire to perform at a decent level combined with a lack of time is a fatal combination. This mixture fills anyone´s head with doubts, but that is where BKOOL comes in. One of the great advantages of indoor cycling is that it allows you to save time and manage your schedule better.
But there is more. We are going to show you a series of tips to be able to do well in this type of event with less than 10 hours of training per week.
What is a Gran Fondo?
Before going into how to prepare for such a competition, you will need to understand what they consist of and what their main features are. As mentioned above, these events are amateur races and are long distances, where there are usually refreshment points, mechanical support, and even a post-stage party.
Most cyclists think of the challenge of finishing a demanding route and enjoying the landscapes they pass through. These are inclusive events which both world-renowned professionals and amateurs who have just signed up for their first cycle tour can take part in.
How do I prepare these competitions?
The ambition of each person will determine the difficulty of the Gran Fondo: if you want to be at the front and elbow out the favourites of the race, an event of this type will be just as difficult as any other cycling competition. However, if your goal is to have fun, you couldn't be more right in choosing such an event. For those of you who want to do your best, but don't have a lot of time available for training, take note of these tips for your preparation sessions: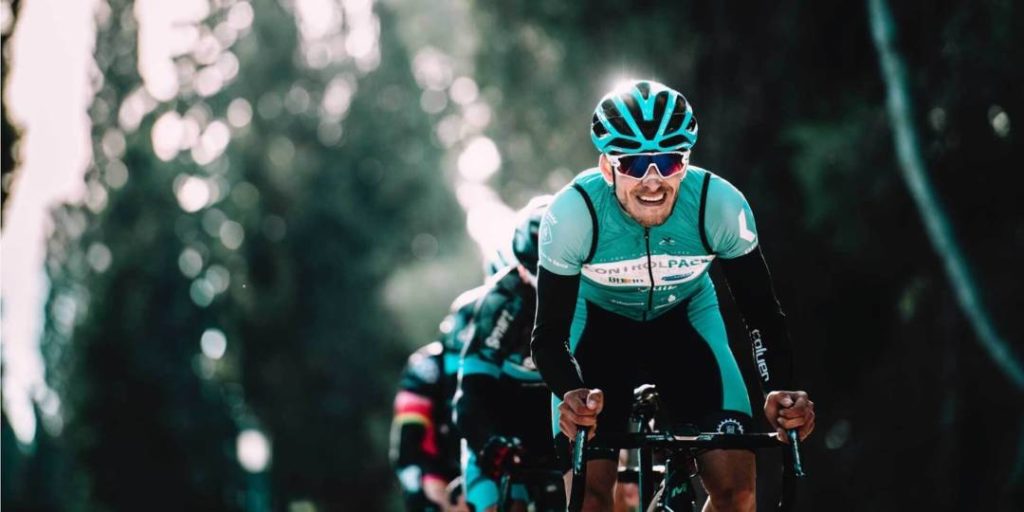 Adapt your endurance
The difficulty of these competitions lies in the duration. Although the stages are of high mileage and may seem crazy, given that we are considering people with little training time (about 10 hours a week), we must be calm; improvements in sustained power can be achieved with short duration sessions.
High-intensity interval training (HIIT) is ideal for building that sustained power over time. Several studies claim that a few 30-second rounds are enough to increase performance over an hour and a half.
In order to develop this sustained power, you will need to work on your FTP (functional threshold power, a cycling performance test to find out the amount of watts generated at the threshold) and aerobic engine. For this objective, two types of training are recommended:
Polarised training: although useful, it is not an example in this article, as it requires an increase in volume and would be more time consuming. Time that we do not have.
SweetSpot training: SweetSpot is the point at which the cyclist is able to maintain a sufficiently high intensity for a sufficiently long time. This type of preparation would consist of, for example, two 20-minute blocks, in a zone three high/zone four low intensity zone. During this session, ten seconds of burst should be incorporated or, in other words, two or three crowns should be lowered.
Increases intensity
The cornerstone of training is to start from a base (whether none or a slightly more advanced athlete) and improve with each workout. In order to see progress, the activities should be more difficult.
This increase in level can be done in two ways: either by applying a higher intensity to the exercises each week or by increasing the volume of load. And as the title of the article indicates, we are focusing on training for a person with no time to spare so you will need to focus on putting in more effort compared to the previous week.
Make your training as specific as possible
Look at the event you are going to do: does your area have places with the characteristics of the stage? No? Then start looking for terrain with similar conditions. A bike ride is not unpleasant for anyone, but when time is short you should focus on specific sessions to perform in the event.
For example, if you are going to tackle a stage of more than 100 kilometres that has a hilly profile, the first thing to do is to research the length and difficulty of the climbs. From there, the smart thing to do would be to train in similar conditions.
One of the advantages of BKOOL is that, in addition to having a large number of workouts that you can use to prepare for a Gran Fondo, our platform provides you with a workouts creator that allows you to design your own tailor-made sessions.
Step by step
The training is designed to take you from 0 to 100 through all the numbers. What do we mean by this? That you cannot skip steps and want to be ready for a Gran Fondo in a matter of a few days or weeks. Training should be based on progressive overload.
Sports experts say that you should not exceed 10% exercise volume or intensity from one week to the next. Due to the subjectivity of aspects such as the degree of intensity you are putting into an exercise, it is advisable to have a coach who will be able to guide you to achieve the perfect physical adaptation.
If you haven't had the chance to try BKOOL yet, you can try it for FREE for 30 days on our website.