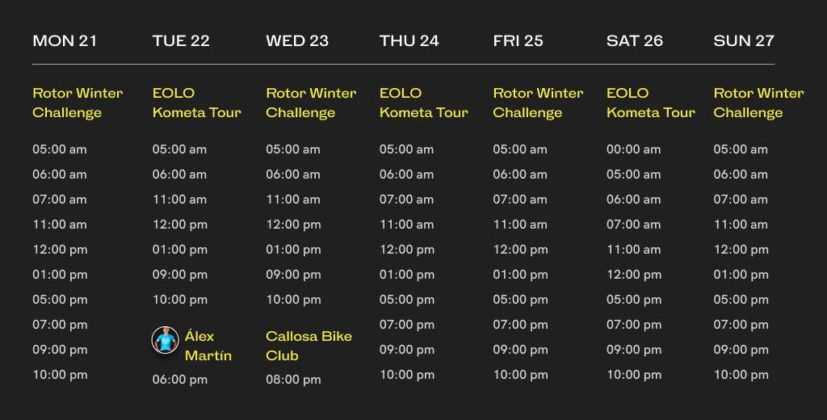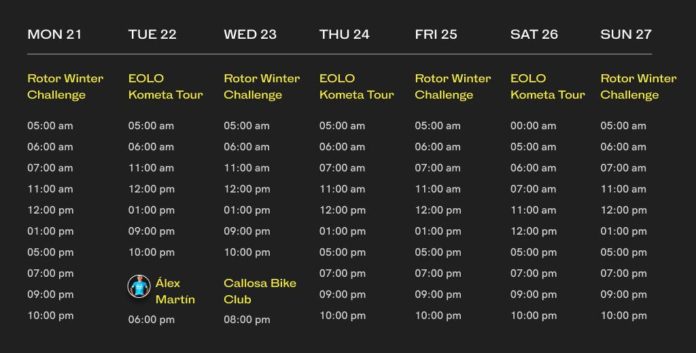 This week we bring you the last stage of the ROTOR Winter Challenge event. Monday, Wednesday, Friday and Sunday, we've scheduled BKOOL Group Rides throughout each day so you can enjoy this route through Australia with Bkoolers from all over the world.
Bkoolers who complete all the stages of the ROTOR Winter Challenge will be entered to win a ROTOR 2IN power meter and a free annual BKOOL Premium simulator subscription. As if that weren't enough, completing all four stages within their active dates unlocks a 20% discount for you to spend on the ROTOR website.
The EOLO Kometa Tour by BKOOL starts! A new stage is activated the last week of each month of 2022. For each stage, a pro EOLO Kometa rider will lead a BKOOL Group Ride, and you can pedal alongside him (or try to ride in his draft).
This week, Alex Martin will be leading the BKOOL Group Ride for the EOLOA Kometa Tour on Tuesday, February 22nd at 6PM (CET). If that time doesn't suit you, you can always ride the stage on your own at any time within that week to enter the grand final raffle.
All participants who complete all the stages of the EOLO Kometa Tour by BKOOL in 2022 will be automatically entered in a raffle for two complete official EOLO Kometa team kits, an in person visit with the team members and a 1 year free Premium BKOOL subscription. Four spectacular gifts for four finishers. Of course, in order to enter this fantastic prize drawing, you need to finish all the stages.
On Wednesday, February 23rd at 8PM (CET), we'll stage a BKOOL Group Ride with the Callosa Bike Club on a circuit in the municipality of Callosa de Segur. Gifts will be raffled off between everyone who participates in this BKOOL Group Ride.
And for a very special treat, we'll have another BKOOL Group Ride with a well known cycling star, who we'll reveal shortly on our social media feeds. Stay tuned – you won't want to miss it!
BKOOL is the most complete cycling simulator on the market – try it FREE for 30 days!